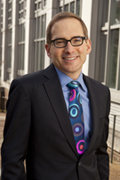 Chris Guthrie has accepted a second term as dean of the Vanderbilt University Law School, Provost Richard McCarty announced.
"Chris Guthrie has been an exceptional leader of the law school during a time of seismic changes in legal education in this country," said McCarty, who is Vanderbilt University's provost and vice chancellor for academic affairs. "In developing a strategy to sustain the excellence of the law school, Dean Guthrie has attempted to stay ahead of the changes in legal education, rather than constantly reacting to them.  As such, I believe strongly that the law school will continue to thrive in these challenging times."
Guthrie, who has served as dean and John Wade-Kent Syverud Professor of Law since July 1, 2009, is a leading expert on behavioral law and economics, dispute resolution, negotiation and judicial decision-making. He is one of the authors of the influential textbook Dispute Resolution & Lawyers and has published more than 40 scholarly articles and essays in leading law journals, including the University of Chicago Law Review, Cornell Law Review, Michigan Law Review, Northwestern University Law Review and the University of Pennsylvania Law Review.
Over the course of his academic career, he has been recognized for his research and teaching with two CPR Institute for Dispute Resolution Professional Article Prizes, the 2003-04 Outstanding First-Year Course Professor Award at Northwestern University Law School, and multiple teaching and research prizes at the University of Missouri, among other awards.