2015 graduates Clarke Agre and Nakeisha Jackson named Gideon's Promise Fellows
Jul 14, 2015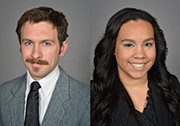 2015 graduates Clarke Agre and Nakeisha Jackson have been selected to the 2015 class of Gideon's Promise Fellows.
Agre and Jackson will work as assistant public defenders in St. Tammany Parish, Louisiana, and Knox County, Tennessee, respectively, next year through the Gideon's Promise Law School Partnership Project.
Vanderbilt is one of 19 law schools nationally participating in the Gideon's Promise partnership, an initiative to identify promising young attorneys and to train them for careers in indigent defense. Through the program, law schools provide initial support for graduates to work in public defenders' offices located in under-served areas, after which the graduates transition to full-time positions as public defenders.
Agre and Jackson are Vanderbilt's second class of Gideon's Promise Fellows; 2014 graduates Leo Costales and Will Howell are working as assistant public defenders at the Office of the Public Defender for the 15th Judicial Circuit in Lafayette, Louisiana, and the Shelby County Public Defender's office in Memphis, Tennessee, respectively.
Gideon's Promise is an Atlanta-based 501(c)3 corporation dedicated to public defense reform, and the partnership program's aim is to enable public defenders' offices to recruit, hire and train talented law graduates. In addition to Vanderbilt, other participating law schools include American University, Boston University, Georgetown University, George Washington University, Harvard University, Hofstra University, New York University, Northwestern University, Stanford University, University of California-Berkeley, University of California-Los Angeles, University of Chicago, University of Michigan, University of Oregon, University of Pennsylvania, University of Southern California, University of Texas and William & Mary.
Agre has moved to Covington, Louisiana, where he will join the St. Tammany Parish Public Defender's Office, and Jackson to Knoxville, Tennessee, where she has begun work with the Knox County Public Defender's Office. Both are excited about the opportunity to work as public defenders afforded by their Gideon's Promise Fellowships.
"I lived in an impoverished community in Baltimore between undergrad and law school. My experiences there inspired me to pursue a career in public interest law, and specifically to work helping the indigent," Agre said. "I loved the criminal law classes that I took at Vanderbilt, so public defense was a natural fit."
"Through courses like Actual Innocence and Juvenile Justice at Vanderbilt Law School, I was able to discover the career path that is right for me," Jackson said. "Having the ability to help those in my community who are underserved, and oftentimes neglected, brings me great joy. I hope to be a passionate and effective voice for those people who have been effectively been silenced by society."
As fellows, Agre and Jackson also gain access to the Gideon's Promise signature Core 101 three-year training program. The training offers tools to provide meaningful representation to clients under difficult circumstances and strategies to resist pressures to process defendants through the legal system quickly.
"I'm delighted that our partnership with Gideon's Promise allows us to support the work of public defenders while also helping to launch the careers of Vanderbilt Law School graduates who are committed to this important form of public service," said Chris Guthrie, Dean and John Wade-Kent Syverud Professor of Law.
The LSPP is a partnership among Gideon's Promise, a nonprofit organization dedicated to reforming the public defense system in the Southeast; the Department of Justice's Bureau of Justice Assistance; participating law schools nationwide; and public defender's offices throughout the Southeast.
"These two fellows illustrate the caliber of next-generation advocates who are passionate about serving our nation's most vulnerable citizens as they work to ensure our criminal justice system lives up to its highest ideals," says Jonathan Rapping, founder and president of Gideon's Promise. "Each fellowship marks the beginning of an important and meaningful legal career dedicated to making equal justice for all a reality in this country. We are grateful to Vanderbilt for working with Gideon's Promise and the Department of Justice to provide these graduates this opportunity, and we are proud of these outstanding students for their commitment to serving where the need is greatest."
---
Alumni Career Services General News Home Page News Public Interest News