22 government and public interest employers participate in new Public Interest Viritual Recruiting Program
Oct 19, 2021
Representatives of 22 government and public interest employers across the nation participated in Vanderbilt Law School's first Public Interest Virtual Recruiting Program during September and October.
Employers participated in one of two ways—through virtual interviews that took place Sept. 20-Oct.1 and through resumé collections in mid-September. 2L students had opportunities to apply and interview for internships in summer 2022, and 3Ls could apply and interview for postgraduate opportunities, including those supported by sponsored fellowships.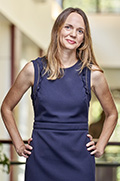 "This was our first year of offering virtual interviews in the fall, and we were encouraged by the number of participants," said Spring Miller, Assistant Dean and Martha Craig Daughtrey Director for Public Interest. "Students interested in public service had opportunities to connect with nonprofit and government employers for both summer and permanent employment."
Participating employers included nonprofit organizations in Tennessee; public defense offices in Florida, Georgia, Kentucky and Tennesseee; the Philadelphia District Attorney's Office; the U.S. Attorney's Office for the Middle District of Tennessee; state and federal government agencies and law offices in Florida and Tennessee; and the U.S. Air Force Judge Advocate General Corps.
Participating employers included:
Arts & Business Council of Greater Nashville
Choosing Justice Initiative, Nashville
Fulton County Public Defender's Office, Georgia
Harpeth Conservancy, Nashville
Kentucky Department of Public Advocacy
Legal Aid Society of Middle Tennessee & the Cumberlands
Nashville Defenders
Nashville Office of the District Attorney
Office of the Public Defender, Fourth Judicial Circuit of Florida
Office of the Public Defender, Ninth Judicial Circuit of Florida
Office of the State Attorney, Fourth Judicial Circuit of Florida
Philadelphia District Attorney's Office
Southern Environmental Law Center, offices throughout the Southeast
Tennessee Department of Children's Services
Tennessee Department of Commerce and Insurance
Tennessee District Public Defenders Conference – Appellate Division
Tennessee Office of the Post-Conviction Defender
The Law Office of Shelby County Public Defender
U.S. Air Force JAG
U.S. Attorney's Office for the Middle District of Tennessee
U.S. Department of Veterans Affairs, Nashville
Youth Law Center, Nashville
---