A Great Investment
Approximately a third of Vanderbilt's J.D. class each year earns a second credential through Vanderbilt's successful Law and Business Program.
By Grace Renshaw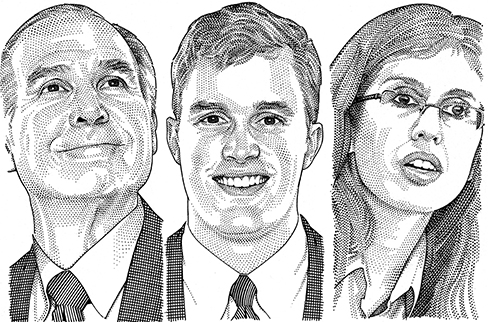 Nicole Dressler, JD/MSF'18, first realized she wanted to practice corporate tax law during a stint as a law firm summer associate after her 1L year. When she asked attorneys how best to prepare for corporate practice during her 2L and 3L years, they advised her to familiarize herself with business and accounting principles. They also warned her to expect a steep learning curve. "Many felt that law school did not adequately prepare them for transactional practice," she recalled. "Some compared their first year in practice to 'drinking water from a fire hose.' "
Neither Dressler's undergraduate studies at the University of Michigan, where she majored in economics, nor her professional experience as a high school teacher had exposed her to finance. Early in her 2L year, she decided to bridge her knowledge gap by applying for Vanderbilt's J.D./Master's in Finance, a dual-degree program launched five years ago in conjunction with the Vanderbilt Owen Graduate School of Management. "It was a great way to challenge myself during my 3L year," Dressler, who was a Sara J. Finley Law and Business Scholar, said.
Students in the J.D./M.S.F. program spend the fall semester of their 3L year at Owen studying finance and split their final semester between finance and law courses. Dressler's first weeks of finance classes were hard. "I had never used Excel prior to business school," she admitted. "I felt behind for the first time in my academic career. But I was shocked at the end of the year how much I actually had learned from that experience."
Now practicing at Davis Polk & Wardwell in New York, Dressler praises the J.D./M.S.F. program for allowing students to learn the fundamentals of both corporate law and finance without extending their time in graduate school. "Vanderbilt is the only law school I'm aware of that offers this program or anything similar in three years," she said. "I've found that the M.S.F. has given me an advantage as a first-year associate. Not only can I interpret the laws regulating complex financial transactions, but I also understand the underlying transactions themselves."
Approximately a third of Vanderbilt Law's graduating class each year receives an additional credential at Commencement through the Vanderbilt Law and Business Program. In 2018, Dressler was one of seven students awarded a J.D./M.S.F., and another classmate earned a J.D./M.B.A. dual degree. In addition, at a quiet ceremony the day before Commencement, 51 J.D. graduates received a Certificate in Law and Business signifying their completion of a rigorous curriculum of courses in corporate, tax, finance and securities law designed by John S. Beasley II Professor of Law and Business Randall Thomas and a nationally renowned faculty of corporate legal experts.
In the 18 years since Thomas joined Vanderbilt's law faculty to direct the Law and Business Program, he has worked with three deans, law faculty, and prominent alumni and judges to build a nationally prominent faculty of experts in corporate regulation and governance. The program's robust curriculum of upper-level electives integrates research examining the theories underlying corporate, financial and tax regulations and governance with practical courses in which students learn fundamentals of accounting and finance and how to read and draft transactional documents.
The J.D./M.S.F. dual-degree program is Thomas' most recent initiative; he worked with law and Owen faculty to offer students committed to transactional law practice a three-year, dual-degree option. "We'll always have students who want to earn a J.D./M.B.A.; it's a great option for entrepreneurs and lawyers who want to practice in a general counsel's office," Thomas said. "The J.D./M.S.F. gives students who want to practice transactional law but didn't study finance as undergraduates a thorough grounding in finance and accounting—and they can earn both degrees in three years."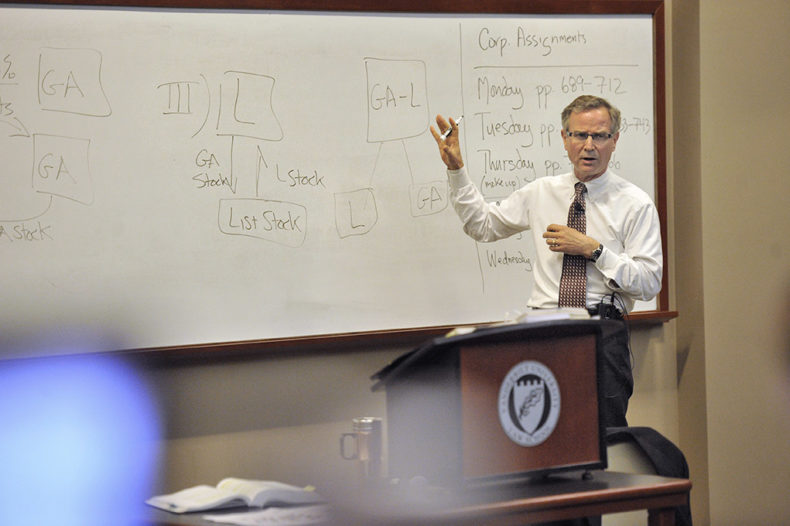 Another former Sara J. Finley Scholar, Will Belton, JD/MSF'16, says the program enabled him to hit the ground running when he joined Baker Donelson's corporate legal team. Belton realized he wanted to focus on transactional law while taking Corporations as a 1L and applied for the J.D./M.S.F. as a 2L. "I wanted to show prospective employers that I was invested in knowledge at the front end," he said.
At Baker Donelson, Belton often finds his knowledge of finance informs his legal work. When a team analyzing a shareholder's agreement realized two different interpretations were possible, his quick financial analysis helped them figure out which was correct. "A payout was due, and I built a model in Excel showing what the share value would be under both interpretations," Belton said. "One number was clearly implausible."
His Owen finance courses helped Hunter Thornton, JD/MSF'19, decide in favor of a legal career. Thornton studied neurobiology at Harvard but then decided against medical school and moved to Chicago, where he worked as a fixed-income trader before entering law school. Thornton found his finance classes at Owen challenging and also discovered the writing ability he had honed in law school was a significant asset to teams he joined for class projects. But the intensive number-crunching required for finance projects also helped him realize how much he enjoyed the law. He plans to join Waller as an associate in their finance and restructuring group after graduation. "The dual degree opens a lot of doors," Thornton said. "Understanding term sheets and all the financial jargon in contracts without having to go to a third party and do research will be a real advantage."
Thomas is quick to emphasize that the Law and Business Certificate program offers a solid introduction to accounting and finance to J.D. students interested in corporate legal practice. Typically awarded to more than 50 law graduates each year, the certificate signifies that they have completed three required courses Thomas views as essential—Corporations, Federal Tax Law and Securities Regulation—as well as introductory finance and accounting courses. For the remainder of their course work, students choose among more than 40 full-credit electives taught by 10 experts in corporate, securities and antitrust law and two professors of the practice of law—Bob Reder '78, who has taught in the program since 2012, and Gary Brown '80 (BA'77), who joined the Law and Business faculty in 2018 after the retirement of Jim Cheek '67. Students are also urged to take courses in intellectual property and other areas of law that might inform corporate practice.
Thomas is particularly proud of the impressive adjunct faculty he has recruited to teach an array of short courses each academic year. His goal was to increase students' exposure to specific areas of law―and to prominent judges and attorneys. Five to six short courses are typically offered each semester; instructors for the 13 short courses in 2018–19 include Dick Aldrich '75, Gary Brown '80, Paul Deemer '75 (BA'69), Abrar Hussain '98, Andy Kaufman '74, Mark Schein '91 and Justin Shuler '11, as well as Judge Kent Jordan of the U.S. Court of Appeals for the Third Circuit, Vice Chancellors Sam Glasscock II and Joseph R. Slights III of the Delaware Court of Chancery, retired Delaware Chancellor William Chandler and retired Delaware Supreme Court Justice Randy Holland.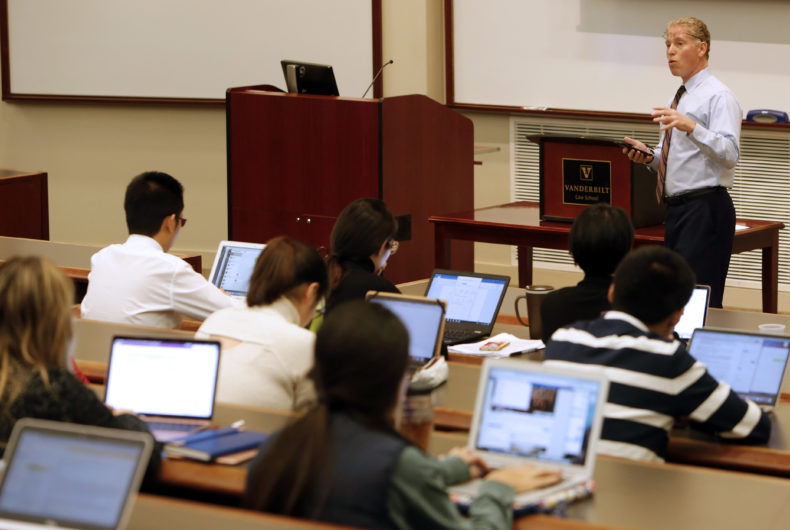 Will Pugh '19, who will receive the Law and Business Certificate in May, says the Law and Business Program was a "big plus factor" when he was debating the relative merits of earning a J.D. or an M.B.A. Pugh worked for a startup in his hometown, Birmingham, Alabama, before law school and saw the benefits to the company when a general counsel joined the staff. "Knowing I could get a J.D. that had a heavy business component made me more excited about attending law school," he said. Pugh admits his family also influenced his choice; his parents, Kathryn Ottensmeyer '88 and David Pugh '88, met in law school, and his stepfather, Hobby Presley Jr. '75, introduced him to classmate Mark Dalton '75, who has funded the Law and Business Program since its inception and recently committed $12.75 million to endow the program in perpetuity.
After graduation, Pugh plans to clerk for Vice Chancellor Joseph R. Slights III on the Delaware Court of Chancery. "The Delaware Court of Chancery was the only clerkship I applied for because of its caseload," he said. "Professor Thomas is on a first-name basis with the chancellors, and his recommendation carries tremendous weight in the corporate law world." He feels well prepared for the clerkship thanks to mentoring from Professors Thomas and Reder and rigorous course work such as Professor Herwig Schlunk's Corporate Tax class. "Professor Schlunk teaches that class like a finance class," Pugh said. "In any given class, you deal with 20 hypotheticals, and you learn how the tax code affects the way business people structure transactions."
Thomas has relished the opportunity to build one of the law school's strengths—corporate law—into a program that introduces students to the underlying theories on which corporate governance, finance and securities law are based while also offering practical courses in transactional law. The $12.75 million Dalton has committed will, he says, allow the law school to continue to increase educational opportunities available through Vanderbilt's best-known academic program.
Thomas is grateful for the vote of confidence, and confident that Dalton's generous investment in the program's students and faculty will pay off handsomely by producing important scholarship and well-trained lawyers for decades to come. "This gift ensures that the Law and Business Program will continue to thrive," Thomas said. "There's a growing need for attorneys who are well-versed in business law, and now, thanks to the Daltons' generosity, Vanderbilt Law School is positioned to produce the very best."
---
Vanderbilt Team Wins 1st Place at VCIC Regional Competition
Hunter Thornton, JD/MSF '19, and a team of five MBA students at the Vanderbilt Owen Graduate School of Management took first place in the central regional segment of Venture Capital Investment Competition, held at the University of Texas at Austin in February. The team, dubbed Elm Hill Capital, advanced to the global finals competition, held at the University of North Carolina at Chapel Hill in April.
The annual Venture Capital Investment Competition is the world's largest venture capital competition, with over 70 universities competing. During the competition, students play the role of venture capitalists with $100 million to invest in one of several startups. Each team assesses the investment opportunities and pitches their investment strategy to the competition judges, who then declare a winner. The Elm Hill Capital team advocated for investing in an artificial intelligence startup that monitors driver behavior in vehicles.
"Teams across the globe travel to finals, and Vanderbilt has never made it this far before, so we're really excited," Thornton said.
In addition to Thornton (third from left), the team included Owen MBA students Jon Reene '20 (far left), who was the team's observer, and Matt Pringle, Luke Sagaser, Michael Splittorf and Chris Iannacone, all Class of 2019.
---