A Practical Provocateur: Professor of Law Jessica Clarke
Clarke's provocative scholarship pushes the frontiers of equality law while maintaining a practical focus on the impact of all forms of discrimination on the everyday lives of Americans.
By Grace Renshaw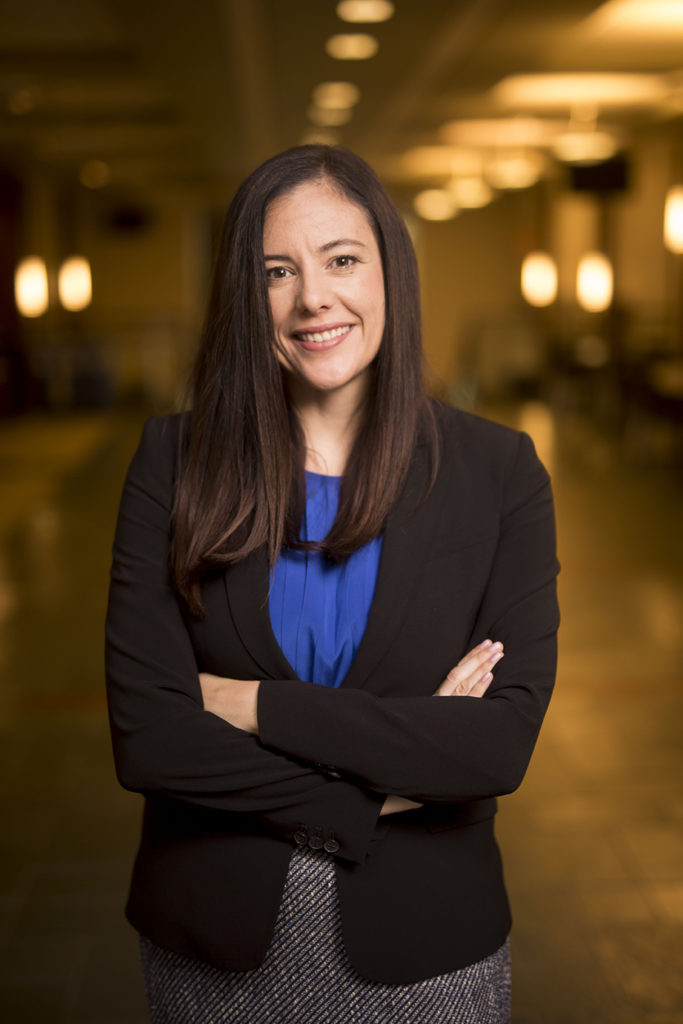 Early in her career, Jessica Clarke realized she was on the wrong career path. A young litigation associate at Covington & Burling, she felt her real calling was in teaching and research, but changing careers seemed daunting. That is, until she happened to mention her dilemma during a lunch with her mentor Judge Shira Scheindlin of the Southern District of New York, for whom she had once worked as a law clerk.
"I said, 'I want to teach law, but I don't know if I can get a job,'" Clarke recalled.
Judge Scheindlin recommended that Clarke apply for a clerkship on a federal appeals court—a valuable experience in itself that would also help her to make the transition to a teaching position. Clarke left law practice the following year to clerk for Judge Rosemary S. Pooler of the Second Circuit Court of Appeals and then launched her academic career as a graduate teaching fellow at Columbia Law School. She joined the law faculty of the University of Minnesota in 2011. Her 2013 Duke Law Journal article, "Inferring Desire," won the Dukeminier Award for Best Sexual Orientation and Gender Identify Law Review Article in 2013, establishing her as a rising scholar at the intersection of civil rights and discrimination law. She joined Vanderbilt's law faculty in 2018.
Clarke's broad scholarly focus is American equality law; her writing encompasses constitutional and statutory guarantees of nondiscrimination based on traits such as race, sex, sexual orientation, gender identity, religion and disability. In a 2018 Harvard Law Review article, "They, Them and Theirs," she explores a current legal frontier—the treatment of individuals with nonbinary gender identities—from a practical standpoint. "People with nonbinary gender identities do not exclusively identify as men or women, but most cases addressing transgender rights involve plaintiffs seeking recognition as men or women," she explained. "My article asks what the law would look like if it took nonbinary gender seriously." Eight states currently allow people to opt for a third gender category on official documents; Clarke believes civil rights concepts can be used to eliminate gender-related legal classifications where they are unnecessary.
Clarke's work also challenges norms that courts have accepted for decades. In a 2018 Northwestern Law Review article, "Explicit Bias," she examines how courts routinely disregard evidence of explicit racial, religious or gender bias in discrimination cases. Fueled in part by the Supreme Court's ruling in favor of a modified version of the Trump administration's travel ban toward citizens of five Muslim-majority countries, Clarke set out to write a critique of legal arguments that allow courts to disregard or de-emphasize evidence of explicit bias. "Explicit bias was supposed to have an upside for lawyers who fight discrimination, because it makes discrimination easy to identify," she said.
Most legal scholarship on discrimination published over the past two decades has focused on implicit attitudes deeply embedded in schools, workplaces, housing markets and other systems that foster discrimination. "But unfortunately, recent scholarship has paid little attention to overt, blatant forms of bias, and courts are actually surprised by it," Clarke said.
Attorneys for the Trump administration successfully argued that Trump's campaign rhetoric should not inform the court's decision on the constitutionality of the travel ban—a line of reasoning Clarke likens to the "stray remarks" doctrine applied by federal courts to prevent juries in employment discrimination cases from hearing evidence that employers made explicitly discriminatory statements. "One court dismissed a case brought by a female investment banker whose supervisor routinely referred to her using crude sexist epithets by reasoning that his remarks were irrelevant to the question of whether she was paid less in bonuses than her male subordinates because of sex discrimination," Clarke said. "If courts ignore or fail to confront explicit forms of discrimination, cases that deny justice to victims of discrimination may become the norm."
Clarke emphasizes her argument is not that discrimination is never morally or legally justified. "There may be compelling reasons to discriminate, but that's a separate question from whether discrimination occurred," she explained. "Courts outright ignore explicit bias when they consider intentional discrimination to be justified by goals such as law enforcement; they have also developed a 'stray remarks' doctrine in employment discrimination cases to prevent juries from hearing evidence of explicit gender or racial bias."
She recommends that federal courts dispense with the "stray remarks" doctrine altogether, as the California Supreme Court has already done. "Courts should consider explicit bias in discrimination cases according to normal rules of evidence," she said.
At Vanderbilt, Clarke teaches Civil Procedure and Constitutional Law. She earned her undergraduate degree at Whitman College, where she was inducted into Phi Beta Kappa, and her law degree at Yale Law School, where she worked on the Yale Journal of Law and Feminism.
---