Alana Seixas '18 receives Garrison Social Justice Scholarship
Alana Seixas has been named the Garrison Social Justice Scholar for the Class of 2018.
Seixas' selection was announced by George Barrett Social Justice Program co-directors Terry A. Maroney and Daniel J. Sharfstein. One Garrison Social Justice Scholarship is awarded each spring to a member of the first-year class who is committed to social justice advocacy.
"The Garrison Scholarship is our highest social justice honor awarded to a current student, and Alana Seixas is an ideal choice," said Maroney. "Her background in child advocacy, passion for racial and gender equality, and sharp intellect, in addition to making Alana a valued member of the Vanderbilt Law community, will serve her well in her future as a public interest lawyer."
The Garrison Social Justice Scholar receives a supplemental annual scholarship for the second and third years of law school as well as stipend support for unpaid legal work with public interest organizations during the two summers prior to graduation. The scholarship is endowed by Amy Price Garrison (BA'79) and Frank M. Garrison '79 (BA'76) through the Amy and Frank Garrison Social Justice Law Fund.
Seixas will spend summer 2016 in Nashville working for the Metropolitan Nashville Public Defender's Office under the supervision of Beth Cruz '10, an education attorney in the department's Juvenile Division. "I like working with young people because they're at a stage where you may be able to stop them from entering the criminal justice system," Seixas said.
A Florida native, Seixas earned her undergraduate degree at Cornell University, where she majored in economic sociology. To confirm her interest in a legal career focusing on child advocacy, Seixas took a year off from her studies in 2013 to work as a legal social work assistant at Lawyers for Children, a nonprofit legal services organization that represents children in family courts. "I wanted to see those kinds of lawyers in action," she said.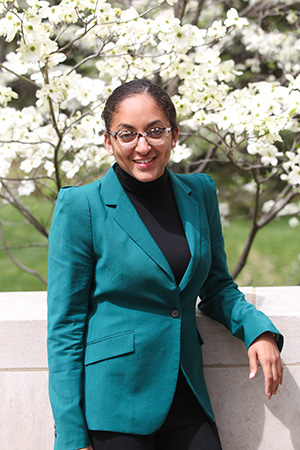 At Lawyers for Children, Seixas helped the organization's staff of lawyers and social workers connect with their young clients. She helped construct a coherent narrative of each child's situation and needs, sometimes through creative means. Once the staff had identified the best available options for a child, Seixas also created visuals to help children understand what was happening. "Youth is an additional vulnerability that complicates the legal system," she said. "In my job prior to law school, I witnessed how traumatic certain interactions with the legal system can be. Our clients had already experienced several interactions with state systems, from child protective agencies to law enforcement. Often, they did not understand the underlying legal implications. My job was to find ways to bring their experience closer to justice."
Seixas chose Vanderbilt because of its strong social justice program and the availability of summer stipends for students to pursue public interest opportunities. "That kind of concrete support is so important when you want to practice public interest law," she said. "I'm so grateful for this scholarship—it means a lot that the law school is supporting me and providing a launching pad for my career, which I plan to use to advance the rights of children and other disadvantaged communities."
Seixas is the second Vanderbilt Law student to receive the Garrison Social Justice Scholarship, which was first awarded to Abby Moskowitz '17 in 2015.
---