Alex Gardner '19 wins Shannon Bybee Scholarship Award writing competition
Nov 14, 2019
Alex Gardner '19 was one of two winners of the 2019 Shannon Bybee Scholarship Competition sponsored by the International Association of Gaming Advisors. The annual writing competition recognizes the best scholarly research in gaming law produced by students as part of their law school coursework.
Gardner wrote his prize-winning paper, "The History that Preceded Historical Gaming: How Parimutuel Wagering Won Its Place in America, as Typified by Kentucky," for the Law and History seminar taught by Associate Professor of Law Sara Mayeux. The Bybee Award included a $2,500 prize, and Gardner's article is posted on IAGA's website.
"In the Law and History Seminar, we explore how the past remains relevant for understanding today's legal landscape," Mayeux said. "Each student writes a paper on a topic of their choice to gain first-hand practice in using historical research to illuminate a present-day legal issue. As Alex's paper exemplifies, every area of law has its own interesting history that lawyers and courts can draw upon when responding to new technologies and controversies."
Gardner's paper summarizes the history of parimutuel wagering, a form of gaming in which all wagers are pooled and bettors compete against each other for a share of the pool, with the participants' wagers determining the payouts. Racetracks in Gardner's home state of Kentucky have used parimutuel wagering for more than a century because it is perceived as fairer and less harmful than bookmaking. "When a bookmaker sets the odds, they place themselves in direct conflict with the bettor; a win for the bettor is a loss for the bookmaker and vice versa," Gardner explained. "Parimutuel wagering is more democratic and less susceptible to corruption because it avoids the problem of placing the bettor and the organization taking the wagers in opposition. The organization just takes a set percentage of all wagers as their fee and pays out the rest of the pool to winners."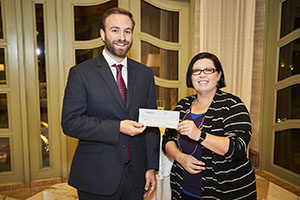 Today, parimutuel betting systems are used in state lotteries as well as horse racing in Kentucky, where horse racing and parimutuel wagering are both regulated by the Kentucky Horse Racing Commission.
According to Gardner's research, parimutuel wagering originated when Joseph Oller, the founder of Paris's Moulin Rouge, designed the system to provide his patrons with a legal form of gambling. Gardner's paper traces the legal history of parimutuel betting in Kentucky back to the early 20th century, when horse tracks began to use it, up through a recent challenge addressing a new form of betting that employs "historical horse racing" machines. These electronic gaming systems, which began appearing at Kentucky racetracks over the past 20 years, allow users to engage in parimutuel wagering, using footage of actual horse races run in the past.
In a decision handed down on Oct. 24, 2018, a Kentucky circuit court determined that historical horse racing is parimutuel wagering, and thus legal. This decision has been appealed to the Kentucky Supreme Court and will be considered in the next year. "Kentucky has kind of led the way for parimutuel wagering in the U.S.," Gardner said. "Parimutuel wagering on horse racing has faced many different legal challenges but has generally prevailed, solidifying itself as an accepted form of gambling."
Gardner joined Jackson Kelly in his hometown of Lexington, Kentucky, as an associate following graduation. He will practice in the firm's construction, equine and health care industry groups.
---