Alyne Queener Massey: Carrying on a Proud and Honorable Tradition
Alyne Queener Massey is honored posthumously with the Distinguished Service Award for endowing and supporting Vanderbilt's law library.
By Grace Renshaw
When Vanderbilt's Alyne Queener Armistead Massey Law Library was dedicated on September 24, 1982, the dedication speech was delivered by a close friend of Mrs. Massey's—Supreme Court Justice Sandra Day O'Connor. "The university is fortunate to have friends like the Masseys who, by their generous gift, carry on a proud and honorable tradition …that began in 1873 when Commodore Vanderbilt provided Bishop McTyeire with the gift that resulted in the establishment of this splendid university," O'Connor said.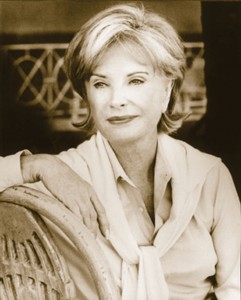 Alyne Queener Massey's support for the law school was indeed a friendship that reflected longstanding family and Vanderbilt connections. She was a 1948 graduate of Vanderbilt University, and her sons both earned Vanderbilt degrees: Bill Armistead earned his J.D. at Vanderbilt in 1976, and his brother, Bob Armistead, earned his B.A. in 1975 and MBA in 1979. Massey's father, Millard Queener—a Yale law graduate—was a respected attorney and community leader in Columbia, Tennessee. Jack Massey endowed the Alyne Queener Massey Law Library in his wife's honor through a gift from the Massey Foundation in 1979, two years after his wife joined Vanderbilt's Board of Trust. "When Alyne came onto the board, Jack wanted to do something for her," Vice Chancellor Emeritus and Counselor to the Chancellor John Beasley '54 (BA'52) recalled. "She was charming, engaged, incredibly gracious, well-informed and extremely smart, and he adored her. The Massey Foundation's endowment of the law library was, in many ways, a gift from Jack to Alyne."
For the law school, the Massey Foundation gift met a crucial and immediate need. After law library director Igor Kavass joined the faculty in 1975, he expanded Vanderbilt's library collections and services and transitioned the library to computerized research facilities. The library badly needed additional space for books and periodicals and new technologies, and its expansion and renovation also marked the first significant expansion and modernization since the law school's move to a dedicated building from Kirkland Hall in 1962. The Masseys' gift enabled the law school to receive a $350,000 challenge grant from the Kresge Foundation, according to former Dean Dent Bostick. "Their gift came at just the right time," Bostick recalled. "We urgently needed to expand the library and repair the building. The roof was leaking!"
After the Alyne Queener Massey Law Library was dedicated in 1982, Mrs. Massey continued to make generous annual contributions to the library until her death in 2012. She was honored posthumously with the law school's 2014 Distinguished Service Award at the Founders Circle dinner April 11, and her sons received the award on their mother's behalf. "She truly loved Vanderbilt," Bill Armistead said, "and she took a very active interest in the law school."
Mrs. Massey's philanthropic legacy extends far beyond Vanderbilt Law School. She served on the board of the Vanderbilt Heart Institute, endowed two research funds at Vanderbilt University Medical Center and contributed generously to Monroe Carell Jr. Children's Hospital at Vanderbilt and Vanderbilt-Ingram Cancer Center. At Vanderbilt, she was instrumental in supporting the Medical Center Gateway Project, which established a mini-park and decorative gateposts at the 21st Avenue and Blakemore entrance, and she served on the Vanderbilt Trustee Committee on Buildings and Grounds.
She enhanced life in Nashville by helping to found Community Foundation of Middle Tennessee and the Tennessee Performing Arts Center. Her longstanding tradition of civic service, nonprofit work and philanthropy is reflected in her service in Nashville on the boards of the Kennedy Center at Vanderbilt and Cheekwood Botanical Gardens and Museum of Art, and in Washington, D.C., at the John F. Kennedy Center for Performing Arts, the Library of Congress and the Blair House. "Beyond her litany of accomplishments, she was prized for her sense of humor and giving nature," Dean Chris Guthrie said in announcing her award. "A community leader and philanthropist, Mrs. Massey was infinitely generous with her time and talents, her intellect, her hospitality, her humor and her loving support of family and friends. Throughout her life, she championed and raised funds for countless nonprofits. Her caring and proactive approach resulted in a lifetime of accomplishments benefitting numerous people and organizations."
---