Angie Bergman '13 honored as Tennessee Bar Association's Harris Gilbert Pro Bono Volunteer of the Year
Jan 10, 2019
A version of this article was published in the January 2019 Tennessee Bar Journal, a publication of the Tennessee Bar Association. It is used with permission.
From speaking with Angie Bergman '13, you would never know that she'd been up the entire night before with her five-year-old, who had a stomach bug. She shows no signs of sleep deprivation as she cheerfully and assuredly speaks of her husband and three children and of the court case that has occupied much of her professional life for nearly three years.
A Wisconsin native, Bergman spent six years in Chicago working in business consulting before realizing that law school would be a better fit. She attended VLS and, by the time she graduated, had fallen in love with Nashville and decided it was a good place to land.
Bergman began work at Bass Berry & Sims and, in spring 2016, was enjoying her third year of practice in the firm's government investigations group, where she focused primarily on health care-related fraud investigations. But, even with a few pro bono projects on the side, she felt there was something missing from her practice.
Then one day–Bergman's birthday to be exact–the phone rang.
On the line was Dawn Deaner, then Metro Nashville Public Defender, calling to ask Bergman for help in representing a client, John Hernandez, who had been indicted in 2013 for murder. Hernandez had spent three years incarcerated, awaiting a trial that was continuously delayed because of the MPD's overwhelming caseload. Frustrated with the delays, he had filed a motion to represent himself so that his trial could occur as soon as possible, raising the claim that he had been deprived of his Sixth Amendment right to a speedy trial based on his lengthy post-indictment incarceration.
Hernandez's assertion of his right to a speedy trial and his request to represent himself because of an underfunded public defender's office highlighted that he was being forced to choose between two constitutional rights: his right to counsel and his right to a speedy trial.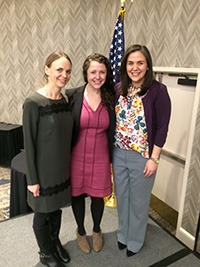 Recognizing that her office could not do what their client needed, Deaner decided to bring in outside counsel to argue that Hernandez had been denied his Sixth Amendment right to a speedy trial because of a systemic breakdown in funding for public defenders in Davidson County. Her mission was to prove that the post-indictment delay to her client's trial should be attributed to the state because of its systemic underfunding of the public defender's office.
It was a daunting task, and Bergman had just returned from a maternity leave. She had never practiced in this area before and knew how big the project would be. Yet she immediately and enthusiastically accepted the case. "The project really just fit the direction I was hoping to go and something I was hoping to add to my practice," she recalled.
Bergman immersed herself in data from public defender's offices across the state: the standards for their caseloads, a history of the funding they'd received from the state and how often the MPD had warned the state that, due to inadequate funding, they could not appropriately represent their clients. She found an expert witness to help with the data, and she pored over years of writings about problems with indigent defense.
To better understand the complex history of her client's case, Bergman also met with Hernandez several times and worked closely with his appointed public defenders, Georgia Sims and Kevin Griffith.
"Ms. Bergman never hesitated to sit down in a jail cell and discuss litigation strategies with Mr. Hernandez," Sims and Griffith wrote in their nomination. "Even while juggling elected officials and massive amounts of confusing data, she never lost sight of Mr. Hernandez's humanity or the importance of his voice."
This laborious fact-finding mission resulted in the filing of a comprehensive motion to have Hernandez's charges dismissed over the violation of his right to a speedy trial. Bergman laid out her case during a three-day evidentiary hearing in which she called Sims, Griffith and Deaner to the stand.  Davidson County's elected District Attorney General, Glenn Funk, represented the state.
Although the motion was denied, the trial court noted that "a legitimate question has been raised as to whether the Metropolitan Davidson County Public Defender's office is understaffed and/or underfunded based on the sheer volume of cases."
Hernandez was ultimately convicted of murder, and Bergman jumped at the chance to continue her representation of him during the appeals process. The Court of Criminal Appeals gave permission for Bergman to file a separate brief on appeal on the claim Hernandez was denied his right to a speedy trial. In August 2018, she argued her case to the CCA and is now awaiting a ruling.
In his letter nominating Bergman for this award, fellow Bass Berry & Sims attorney David Esquivel said: "What distinguishes Angie and her work in this case was her willingness to sacrifice on short notice her busy practice for paying clients, as well as time with her family, and to devote the significant time required to do this case right in a quick time frame."
Bergman currently has a whopping 425 hours and counting of pro bono work invested in this case, a number she accrued while also maintaining her law practice and family life. When confronted with this number, she is quick to share credit with the team of lawyers and paralegals she supervised and speaks often of how grateful she is for the support of her family and Bass Berry & Sims and the work done by the Metro Public Defender's Office.
She hopes highlighting the inadequate funding of public defender's offices will help everyone see the people behind the issue instead of regarding it as a political issue or money grab. "That is not how I see it and that is not how the public defender's office sees it. We see it as the individual representation of an individual who has been subjected to constitutional harm. Our obligation as lawyers and as people is to see people and to see not just political overtones," she says. "That is the unconscionable harm here. The harm here is to people, not to a budget."
— by Kate Prince, Leadership Development and Innovations Coordinator, Tennessee Bar Association
---