Ashton Andrews '22 and Molly Gray '22 win the 2020-21 Bass Berry & Sims Moot Court Competition
Feb 23, 2021
Ashton Andrews '22 and Molly Gray '22 won the 2021 Bass Berry & Sims Moot Court Competition, held at Vanderbilt Law School Feb. 5, receiving the John A. Cortner Award and a cash prize for their win.
Andrews and Gray faced finalists Aaron Bernard '22 and Emily Webb '22. The competition began last fall with 42 teams and 84 participants. Emily Detiveaux '22 received the award for Best Oralist, and the team of Peter Byrne '22 and Caylyn Harvey '22  received the award for Best Brief. Semi-finalists included Emily Detiveaux, Stan Medlin, Jaehee Kim and Anya van Soestbergen, all of the Class of 2022.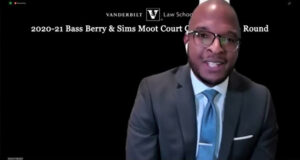 Under the leadership of Vanderbilt Moot Court Board Chief Justice Kareim Oliphant '21, Executive Justice Chandler Ray '21 managed a team of third-year students who organized and ran the competition. The problem was written by executive problem editor Taylor Daniel '21 and associate problem editors Austin Maffei '21 and Stefan Berthelsen '21.
The competition's final round was argued before a panel of three federal appellate judges, including Judge Carl E. Stewart of the U.S. Court of Appeals for the Fifth Circuit, Judge Michael Y. Skudder of the U.S. Court of Appeals for the Seventh Circuit, and Judge Elizabeth L. Branch of the U.S. Court of Appeals for the Eleventh Circuit.
The 2021-22 Vanderbilt Moot Court Problem, Bridger v. State of Alps, involved two constitutional challenges to the Firearms Safety Act in the fictional state of Alps:
Whether the act's "Preventing Dangerous Gun Owners" provision, which prevented the petitioner, Dr. Phillip Bridgers, from possessing a firearm due to his past involuntary hospitalization under the Alps Emergency Hospitalization Act, violates Bridger's Second Amendment rights, and
Whether the Pediatrician Warning provision, which requires pediatricians to inform parents of the risks of gun ownership, facially violates the First Amendment.
The problem presented each issue through the case of petitioner Phillip Bridgers, a 55-year-old pediatrician and citizen of Alps who attempted to purchase a gun after his daughter suffered a traumatizing home invasion. When Bridgers sought to obtain a gun license, he was informed that the recently enacted Alps Firearm Safety Act prohibited him from doing so, as the act's Preventing Dangerous Gun Owners provision permanently bans individuals who have been involuntarily hospitalized under the Alps Emergency Hospitalization Act from gun ownership. Bridgers had been involuntarily hospitalized at age 18 for suicide risk.
Bridgers filed suit, challenging the constitutionality of Alps' permanent prohibition on his ability to own a gun. His suit also challenged the Alps Firearm Safety Act's Pediatrician Warning Provision, which requires all licensed pediatricians to tell parents at every child's three-month check-up that they should "consider a gun-free home, because firearm ownership increases the risk of childhood death"—a statement Bridgers disagrees with.
Bernard and Webb argued for the petitioner, and Andrews and Gray argued for the respondent.
The John A. Cortner Award, which goes to the winners of Vanderbilt's annual Bass Berry & Sims Moot Court competition, honors John Cortner '86, who served as the Moot Court Board's chief justice. Cortner joined Bogle & Gates in Seattle after graduation but was diagnosed with Hodgkin's disease soon after and died within the year. His family endowed the award in 1988 in his memory.
---