Bailey Spaulding '09: The "Aha" Moment
Bailey Spaulding '09 realized that what she really wanted to do was open a craft brewery.
By Fiona Soltes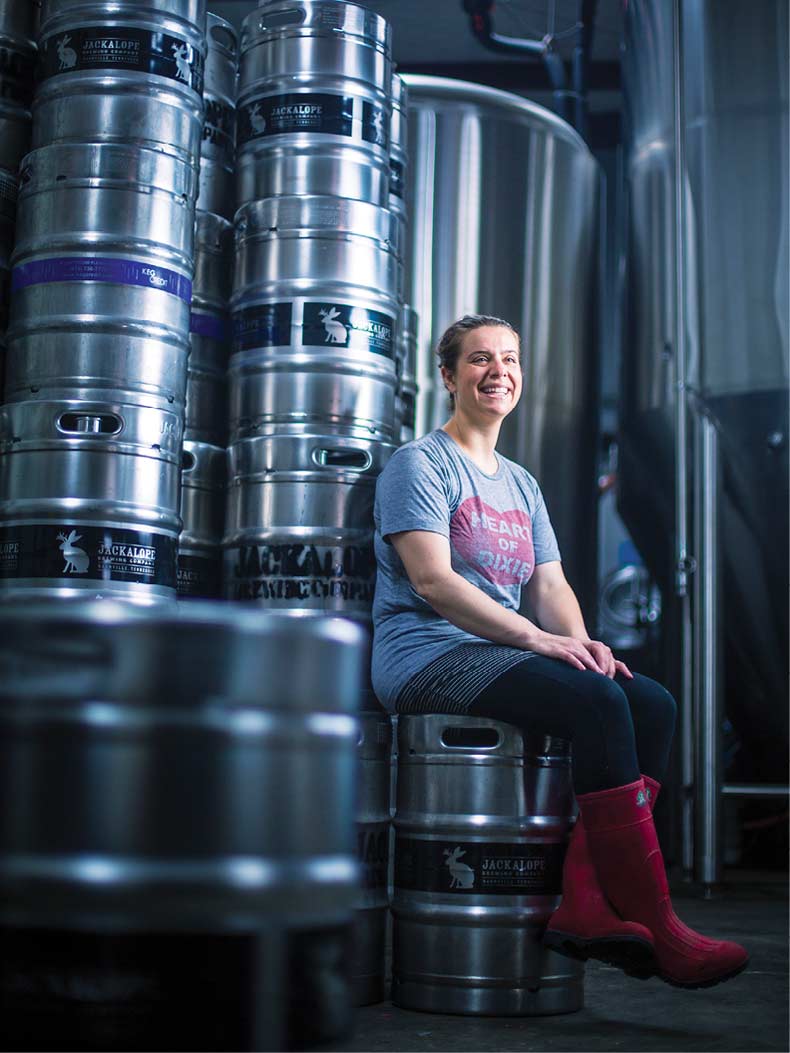 The "aha" moment for Bailey Spaulding '09 came during a conversation with other interns while she was working at the Natural Resources Defense Council in New York after her first year of law school. "We were talking about what everyone would do if they could do anything they wanted," Spaulding recalled. "One girl said she would start a brewery. And I thought, 'That's the best idea I've ever heard.' It just took off from there."
Completely undaunted by the fact that she had no background in brewing, Spaulding set to work learning how to brew beer when she returned to Vanderbilt for her 2L year. Her science background helped; Spaulding had earned her undergraduate degree in biological anthropology at Harvard in 2004. And her Vanderbilt Law classmates were only too happy to taste-test her early creations.
Her legal knowledge also proved an asset. Spaulding set up her limited liability corporation, Jackalope Brewing, right after taking the Tennessee bar exam in 2009. "People say, 'Oh, you're not a lawyer. You must regret going to law school!' But that's not true. I loved it!" Spaulding said. "The thing about law is that it's applicable to virtually every aspect of life. If you go to law school and then realize that you don't want to be a traditional attorney, that's fine. A lot of what you're learning can be useful in whatever you want to do."
Brewing is a highly regulated industry, and during Jackalope's startup phase, Spaulding's understanding of the law helped her navigate regulations governing how the company can brew and sell its beer. She has since hired an attorney who specializes in alcohol compliance to help her on an ongoing basis and engaged the Vanderbilt Legal Clinic to do trademark work, helping the brewery to register its beer brands.
Spaulding founded Jackalope with partner and close friend Robyn Virball. The brewery now boasts a staff of eight. In addition to selling its craft beers to local restaurants and bars, Jackalope offers a taproom where its fresh-brewed beers are served.
Spaulding was initially concerned that her impulsive decision to start a brewery rather than enter law practice would disappoint her law professors. "But I've found it to be the complete opposite," she said. "There's always pressure to have all the answers right now and to feel like there's some sort of finality in the decisions you make. But life is long and short all at the same time. You can take some chances and explore some different things."
Her contagious enthusiasm would make Spaulding a stand-out in the craft beer industry even if Jackalope hadn't been one of the first U.S. breweries founded solely by women. "That wasn't our motivation at all," Spaulding said, "but we have gotten some attention for it, which is always nice. I do think more women come into our brewery, try our beer and maybe feel a little more comfortable. Craft beer can be an intimidating thing to get into."
Spaulding also set herself apart by founding Jackalope in Nashville. A native of Vermont, which has a rich craft brew culture, she fell in love with Nashville while attending Vanderbilt and also saw an opportunity to help create a craft beer culture in Tennessee. "The support that we get from the community here is totally amazing," she said. "When we first opened, we sent out a press release, signed the lease, and the next day a TV news crew was there. It was a big deal. When we opened our doors, we had lines around the corner. The very first day. We all work really hard, so I knew we were going to be successful. I just didn't really know in what capacity."
Spaulding named her brewery for a mythical creature that's a mix of jackrabbit and antelope, admitting that she "believed in them pretty actively" growing up. That sense of wonder, adventure and excitement for the unknown made founding a brewery a natural career move for her. "I never really thought of myself as a risk taker," she said. "This wasn't so much about taking a risk as it was about what I wanted. I knew I was going to do it; it didn't even really feel like a choice. But something I've learned along the way is that I'm going to be a 'yes' type of person. To whatever opportunity comes."
---