Books by W. Kip Viscusi and Michael Vandenbergh among best environmental writing in past 50 years.
Dec 3, 2019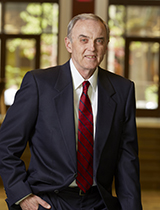 Important books by W. Kip Viscusi, University Distinguished Professor of Law, Economics and Management, and Michael Vandenbergh, David Daniels Allen Distinguished Professor of Law, were featured in an article touting the best environmental writing of the last 50 years. The article, "Reading the Environment: 1969-2019," was published in the November/December issue of the Environmental Forum, published by the Environmental Law Institute.
In the article, reviewers Oliver A. Houck of Tulane University and G. Tracy Mehan III, executive director for government affairs at the American Water Works Association, discuss the most influential writing about environmental issues in the last 50 years, citing works by writer and environmental activist Bill McKibben and nonfiction writer John McPhee.
Houck and Mehan cite two influential books by Viscusi: Damming the West, co-authored with Richard L. Berkman in 1973, which was Ralph Nader's Study Group Report on the federal Bureau of Reclamation, and Pricing Lives, Viscusi's acclaimed 2018 book on the value of a statistical life. "The valuation has been accepted by administrations of both parties and is reflected in the writings of two directors of the White House Office of Information and Regulatory Affairs," they state.
Viscusi's work, the reviewers assert, illustrates the important role of economics and cost-benefit analysis in environmental policy. Viscusi is the award-winning author of more than 30 books and 370 articles, most of which deal with different aspects of health and safety risks, and he is the founding editor of the Journal of Risk and Uncertainty, which he has edited since 1988.
Houck and Mehan also praise Beyond Politics: The Private Governance Response to Climate Change (2017), coauthored by Vandenbergh and Associate Professor of Earth and Environmental Sciences Jona­than Gilligan, as offering "a sober assessment of the climate change challenge and reasoned hope for what could be." They write, "In light of the current political standoff, [Vandenbergh and Gilligan] propose an interim strategy by private actors that could achieve 'a significant fraction of the necessary reductions [in]carbon dioxide emissions."
Vandenbergh directs the Climate Change Research Network at Vanderbilt University and co-directs the law school's Energy, Environment and Land Use Program. His research explores the relationship between formal legal regulation and informal social regulation of individual and corporate behavior. His work with the Climate Change Research Network involves interdisciplinary teams that focus on the reduction of carbon emissions from the individual and household sector, and his corporate work explores private environmental governance and the influence of social norms on firm behavior and the ways in which private contracting can enhance or undermine public governance.
---