Carlton Tarkington, 1936–2015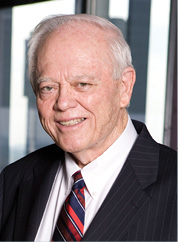 Carlton B. Tarkington '63 (BA'59) died January 20. He was 78. A Nashville native, Carlton graduated from Vanderbilt's Peabody College in 1959 before applying to Vanderbilt Law School at the suggestion of a family friend and mentor, Judge Benson Trimble of Davidson County's Fourth Circuit Court. He was not only admitted, but was also awarded a scholarship.
After law school, Carlton had a successful sales career with West Publishing and then founded a boutique investment firm, Edinburgh Investments, at which he continued to work until shortly before his death. His son, Bruce Lee Tarkington (BA'98), joined the firm after his graduation from VLS in 2001.
Carlton's success was due to two traits for which he was well-known: a strong sense of personal integrity and an almost uncanny ability to recognize good opportunities and take full advantage of them. After looking over a list of 13 candidates for the Metro Council seat representing his West Nashville district and realizing "nobody on that list was very well-qualified," Carlton ran for and was elected to the seat, becoming a charter member of the Metro Council. After law school, he set up a law office in West Nashville and balanced his time between establishing a legal practice and serving on the Metro Council.
Carlton later became one of the top sales representatives at West Publishing, which required that all members of its sales force be law graduates. He spent 33 years helping law schools, legal offices and judicial chambers to assemble their reference libraries. After retiring from West in 1996, he helped found two local banks and established Edinburgh Investments.
In the late 1990s, Carlton played a significant role in the law school's renovation and expansion while serving on the Alumni Building Committee. The Tarkington Suite, a library study area, is named in his honor. He also endowed the Tarkington Chair of Teaching Excellence, a three-year chair appointment that celebrates faculty who are renowned teachers. He was honored in 2011 as Vanderbilt Law School's Distinguished Alumnus.
Carlton's first wife, Rebecca Ann Florence Tarkington, died in 1995. In addition to his son, he is survived by his wife, Jane Duncan Tarkington; stepdaughters Julie LaPenna, Jill Baltz (BS'92), Jennie Mills and Jan Blanton; and 18 grandchildren.
---