Charles W. (Chet) Gerdts III '78 and Victor S. (Torry) Johnson III '74 honored with 2015 VLS Distinguished Alumni awards
Apr 15, 2015
Charles W. (Chet) Gerdts III '78 was recognized as Vanderbilt Law School's 2015 Distinguished Alumnus, and Victor S. (Torry) Johnson III '74 received Vanderbilt Law School's 2015 Distinguished Service Award at the Founders Circle Dinner April 10.
The awards were announced and presented by Dean Chris Guthrie. Gerdts was represented by his wife, Dr. Elizabeth Gerdts, and his two children, Emily and Charles W. IV (BA'13). Johnson's wife, Mary Leyden (BSN'72), and two of his daughters, Anne Laurence and Caroline, attended.
"I am proud to recognize Chet Gerdts and Torry Johnson for their incredible career accomplishments and their contributions to the legal community, to the law school, and to their local communities," Dean Guthrie said.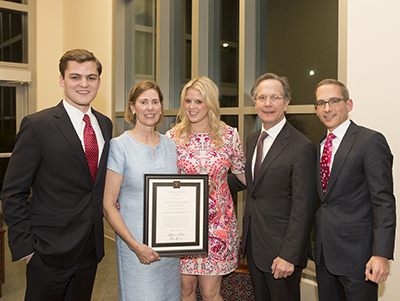 Gerdts, who died after a long illness in 2012, was honored posthumously for his career accomplishments and contributions to the life of the law school. He practiced as a corporate litigator for more than 25 years before leaving his partnership at Orrick Herrington & Sutcliffe to join PriceWaterhouseCoopers (PwC) as its general counsel in 2002. Gerdts joined PwC a few months after Congress passed the Sarbanes-Oxley Act and ably guided the firm through the transition from providing services in an unregulated environment to a regulated one.
A leader in the legal profession, Gerdts was a member of the New York City Bar Association's 2006 Task Force on the Lawyer's Role in Corporate Governance, served on the ABA's Presidential Task Force on the Attorney-Client Privilege, and was a member of the board of directors for the Lawyers Committee for Civil Rights under the Law. At Vanderbilt Law School, Gerdts served on the Board of Advisors and was a generous donor and staunch supporter. He had pledged to endow a scholarship, and more than 165 of his classmates, colleagues and friends stepped forward to fulfill that pledge in his honor after his untimely death.
His son, Charles IV, accepted the award on behalf of the Gerdts family after close friend Patrick Mulloy II '77 (BA'74) spoke about Chet's personal and professional accomplishments.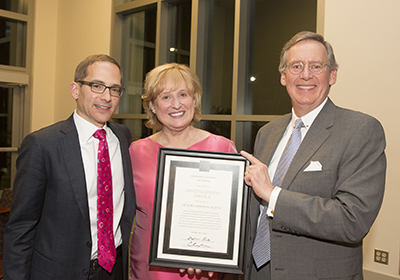 Victor "Torry" Johnson III '74, who retired in the summer of 2014 after 27 years of service as Metropolitan Nashville's District Attorney, was recognized for his career in public service with Vanderbilt's Distinguished Service Award.
Before joining the Nashville DA's office, then headed by Thomas H. Shriver '57 (BA'55) in 1975, Johnson clerked for Judge William E. Miller on the U.S. Court of Appeals for the Sixth Circuit. With the exception of a three-year hiatus in private practice, Johnson spent his entire career in the DA's office. He was appointed to the top position by Tennessee Governor Ned Ray McWherter and re-elected to three additional eight-year terms.
As DA, Johnson built a reputation for running an ethical office, bolstering essential services for victims, and applying the law with an even hand. He organized special groups of prosecutors who trained to deal exclusively with such crimes as child physical and sexual abuse, domestic violence, drunk driving and vehicular homicide. Johnson also built a victim/witness program into an effective staff of social workers dedicated to working with crime victims and witnesses and staff attorneys to support cases.
Johnson's personal philanthropy focused on providing resources for children who are victims of sexual abuse and domestic violence; he was instrumental in establishing the nonprofit Nashville Children's Alliance. At the law school, he has served on the Board of Advisors and as an adjunct faculty member and endowed the Victor S. Johnson III Public Interest Stipend Fund and the annual Victor S. Johnson III Lecture in Criminal Justice. He also mentored generations of student interns and young lawyers who worked in the Metro DA's office under his tutelage.
Over the course of his distinguished career, Johnson has served as a vice president of the National District Attorneys Association, as president of the statewide prosecutors' association, and on the boards of both the Tennessee and Nashville Bar Associations. His service to the community has been recognized by awards from the National College of District Attorneys, the Tennessee District Attorneys General Conference and the Nashville Bar Association.
In January, Johnson became a visiting professor at Belmont University's College of Law, where he teaches criminal law and a sentencing course.
---