Chris Giancarlo '84 appointed to Commodity Futures Trading Commission
Jun 4, 2014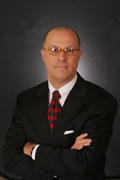 J. Christopher Giancarlo '84 has been confirmed by the U.S. Senate as a commissioner of the Commodity Futures Trading Commission.
Created in 1974, the CFTC's mission is to protect market participants and the public from fraud, manipulation, abusive practices and systematic risks related to derivatives, including futures and swaps. As a result of the Dodd-Frank Wall Street Reform and Consumer Protection Act, the CFTC is currently writing rules to regulate the swaps marketplace.
Giancarlo was one of three new commissioners nominated to the five-member CFTC by President Barack Obama who were confirmed by the Senate on June 3. The other two are Timothy G. Massad, who will serve as the CFTC's chair, and Sharon Y. Bowen. They join Mark Wetjen and Scott D. O'Malia on the commission.
Giancarlo previously served as executive vice president of GFI Group, which serves a broad array of clients in the financial market with trading technologies and products.
"We are honored that the Senate has confirmed President Obama's nomination of Chris Giancarlo to serve on the CFTC," said Colin Heffron, who is chief executive officer of GFI Group. "Chris is deeply knowledgeable about the global swaps and futures markets. His business leadership and legal expertise will be of tremendous help to the commission as it completes the implementation of financial regulatory reform."
Michael Gooch, GGFI's executive chairman, added, "GFI Group has benefitted from Chris Giancarlo's energy, acumen and common sense for more than a decade. He is worthy of this recognition and the chance to put his knowledge and experience to work in service to the American public."
Since joining GFI in 2001, Giancarlo has been responsible for the company's strategic relationships and transactions, including M&A, equity finance, investment banking, strategy development, analyst communications and investor and government relations. He is a former board member and chairman of the Wholesale Markets Brokers' Association, Americas. He has written and spoken extensively on public policy, legal and other matters concerning regulation, technology and the financial markets, including testimony on implementation of the Dodd Frank Act before the US Congress and regulatory agencies.
In addition to his J.D. from Vanderbilt, Giancarlo earned a B.A, Phi Beta Kappa from Skidmore College. He practiced law for 16 years, most recently at Thelen Reid Brown Raysman & Steiner in New York, before joining GFI.
---