Civil rights leader and former Oklahoma State Senator E. Melvin Porter '59 dead at 86
Jul 27, 2016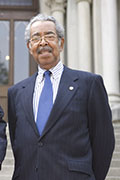 E. Melvin Porter, one of the first African Americans to graduate from Vanderbilt Law School in 1959, died July 26 in Oklahoma City, where he spent his entire legal career and was elected Oklahoma's first African American state senator. He was honored by the Oklahoma State Senate in 2015.
"I had the pleasure of meeting Melvin Porter when he returned to the law school to be honored in 2007," Dean Chris Guthrie said. "He was a courageous, generous, and gifted man, and he had a distinguished career as a lawyer and public servant. I am proud of all of our alumni, but Melvin holds a special place in my heart. Like his classmate, Fred Work '59, and Janie Greenwood-Harris '64, the first African-American woman to graduate from the law school, Melvin was a true pioneer. When Melvin was a student, there were two African-American students enrolled at the law school. Today, 54 African-American students call the law school home. We owe a collective debt of gratitude to Melvin, Fred and Janie for making Vanderbilt Law School what it is today."
Porter, along with Work and Harris, was honored at a Black Law Student Association dinner held in Nashville on Jan. 17, 2015, at which he was represented by his son, Joel Porter.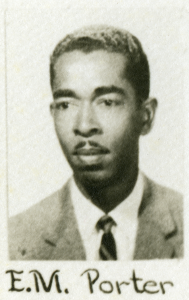 A native of Okmulgee, Oklahoma, Melvin Porter joined the U.S. Army right out of high school to earn enough money to put himself through college. Stationed with an all-white Tennessee National Guard unit in Korea, Porter passed his first test of integration as an 18-year-old recruit. His service during the Korean conflict made him eligible for the GI Bill. A friend in his unit encouraged him to consider Tennessee State University, which the friend described as "a fine black university." In his senior year, as TSU's student body president, Porter was instrumental in inviting Dr. Martin Luther King Jr. to visit the campus.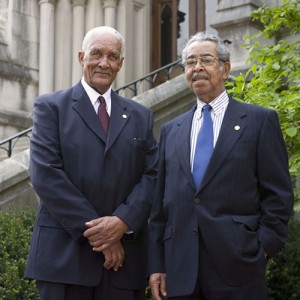 Porter was also recruited—along with Fisk University senior Frederick Work—by Vanderbilt Law Dean John Wade to integrate the law school by joining its Class of 1959. After earning his J.D. at Vanderbilt, Porter moved to Oklahoma City, where he opened a law practice, became an activist in the civil rights movement, and became the first African-American elected to the Oklahoma State Senate in 1964. He held his seat for 22 years, and introduced Oklahoma's Anti-Discrimination Act, the state's equivalent to the federal Civil Rights Act.
Porter's work in the civil rights movement included two terms as president of the Oklahoma City branch of the NAACP, which gave him confidence to face the prejudice he encountered in city, state and federal courts. "I faced more racism in legal practice than I ever dreamed I would face from both judges and lawyers," he recalled in a 2007 interview for the Vanderbilt Lawyer. "The legal profession totally shocked me with its entrenched, hard-core racism."
Porter then noted that the greatest lesson he learned from his involvement in the civil rights movement was that "you've got to show love even when you are rejected. Even though you are hated, you don't become a hater – you reach out," he said. "The great magic about Americans is their ability to overcome wrong, to eventually arrive at what is right. They did that with slavery, women's suffrage, and today, even in the South, there's a spirit of coexisting. We still have racism and we still have discrimination, but we've come a long way in solving these problems."
Porter is survived by three daughters and four sons, all of whom live in Oklahoma.
---