Clay Travis '04: Playing to His Strengths
A "pudding strike" showed Clay Travis '04 the power of the Internet and led him to a career in sports talk.
By Jan Read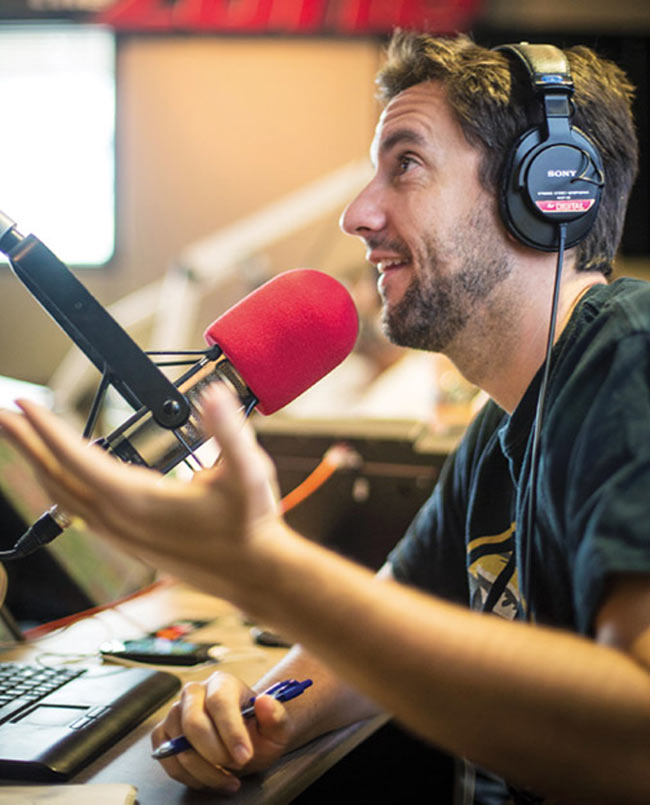 Two years into his legal career, Clay Travis found himself arguing whether or not it was excusable neglect that February 29 happened to fall in the middle of a filing deadline. That was the moment when the 2004 VLS graduate realized traditional law practice wasn't for him.  "I loved law school. My best friends are from law school. But I didn't like practicing law," he said. "You go into it thinking you're going to be litigating Brown v. Board of Education, but no. Law is too slow for me. It takes years for cases to resolve."
Travis instead found his calling in the rapid-fire world of sports talk. Since 2005, he's steadily built his career into a multimedia threat of print, radio, television and online. He's written best-selling books, hosts a national show for NBC Sports Radio on Saturdays, created the football website Outkick the Coverage that is now part of Fox Sports, and is a sports commentator for Fox Sports 1. He boasts more than 115,000 Twitter followers and attracts a million unique readers a month at Outkick the Coverage. Until leaving his gig as co-host of the popular 3HL ("three-hour lunch") Nashville sports radio talk show in August following failed contract negotiations, Travis also headlined the highest-rated local sports radio show in the United States. 3HL fans are still mourning his departure, but Travis has revved up his Fox blog and moved on to other opportunities.
Now 34, Travis was raised in Nashville as a fan of the SEC in general and the University of Tennessee in particular; his grandfather played football for General Bob Neyland, the Vols' legendary coach, in the 1930s. "I'm in the entertainment business, and my goal is to be smarter, faster and more entertaining than any other major sports site," Travis said. "My audience is the over-educated, under-stimulated professional who sits in front of a computer all day. I try to give him 15 minutes of fun, but it should also be entertaining to my wife or my mom." His humor is edgy but genuine—the sort of smart, funny commentary where the audience is in on the joke rather than its butt. (Unless they are 'Bama fans.)
And he knows when he's stirring the pot, inviting fans to send him their "inevitable hate mail." Travis actually answers some of that mail in his Friday columns, which are part sports commentary, part Dear Abby, and always personal. For example, Travis, whose third son was born in September, recently advised a fan whose wife was 40 weeks pregnant to skip an out-of-town wedding even though he was the best man. "If you miss the birth of your first kid because of a decision you made,… your wife will never forgive you," he wrote. "She says she will, but she's lying."
Travis earned his undergraduate degree at George Washington University and came home to Nashville for law school. He met his wife, Lara (MEd'07), as a 1L. After graduation, he and Lara moved to the Virgin Islands, where Travis worked with Chad Messier '93 at Dudley Topper and Fuerzieg. Frustrated that DirecTV's Sunday NFL package, which aired Tennessee Titans games, wasn't available in the Virgin Islands, Travis started a "pudding strike," pledging to eat only Hunt's Pudding Snacks until he gained satellite access to Titans games. After he started a website, the pudding strike snowballed. Travis was interviewed on Good Morning America, ESPN, CNN and many local outlets. Fifty days later, the first Sunday NFL games were broadcast on St. Thomas, and Travis understood the potential of the Internet.
Travis started writing online columns for CBS Sports in 2005. The following year, he and Lara moved back to Nashville, where Travis wrote sports columns and practiced law part-time. He left practice for good in 2006, when he entered Vanderbilt's master of fine arts writing program and decided to follow UT to all 12 of its SEC games. That experience became his first book, Dixieland Delight, published by HarperCollins. His second book, On Rocky Top, chronicled UT's disastrous 2008 season. He earned his MFA in 2008. After writing for two sports websites, Deadspin and Fanhouse, he started his own site in 2011. "I've developed a creative space for myself," he said. "For me, writing is the foundation. I've been able to find what I like to do and make money at it."
Travis got a B in the sports law class he took from Professor David Williams, now vice chancellor for university affairs and athletics, but he says his VLS education comes into play every day. Sports commentary, he claims, is essentially analyzing arguments. "Is someone a good coach or a bad coach? Is February 29 a cause for excusable neglect?" he said. "They're both arguments—you're making a case."
---