Cloe Anderson '21 receives the Carl J. Ruskowski Clinical Legal Education Award
May 24, 2021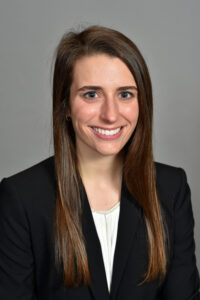 Each year the clinic awards the Carl J. Ruskowski Clinical Legal Education award to the clinic student, who in her representation of clients in the law school's clinical program, demonstrates excellence in the practice of law and best exemplifies the highest standards of the legal profession.
This year the award goes to Cloe Anderson '21 for her work with the clinical program and specifically with the Stanton Foundation First Amendment Clinic and the Immigration Practice Clinic. During the summer 2020, Cloe worked on a pro bono project with the Immigration Practice Clinic devoting volunteer hours to help pass the Metro Council Resolution RS 2020-433 which addressed anti-Asian and COVID-19 violence.
In the fall 2020, Cloe enrolled in the Stanton Foundation First Amendment Clinic. Professor Gautam Hans, who directs the First Amendment Clinic, stated that "Cloe was a vital part of First Amendment Clinic projects in the Fall 2020 term. Her excellent legal skills and collaborative spirit were an invaluable asset to the clinic team, and her work for the legal clinics over the past year has been deeply appreciated." She also has provided invaluable support to the clinic faculty and staff prompting Professor Lauren Rogal to comment that working with Cloe was "refreshing that she was extremely professional, thorough, and enthusiastic."
Congratulations Cloe and best wishes after graduation!
---