Community Enterprise Clinic represents clemency child trafficking advocate Cyntoia Brown-Long
Oct 22, 2020
During spring and summer 2020, the Turner Family Community Enterprise Clinic represented human trafficking survivor and criminal justice reform advocate Cyntoia Brown-Long. After her case received national attention, Gov. Bill Haslam granted Brown-Long clemency in 2019 after she had served a 15-year sentence for killing a man who had paid to have sex with her when she was 16 years old. Her story was featured in the Netflix documentary Murder to Mercy: The Cyntoia Brown Story and in her recent book, Free Cyntoia: My Search for Redemption in the American Prison System.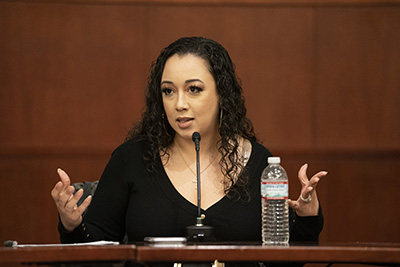 The Community Enterprise Clinic helped Cyntoia and her husband, Jamie Long, form a nonprofit, The Foundation for Justice, Freedom and Mercy. JFAM will educate the public about sexual exploitation and trafficking of minors, criminal justice reform and prisoner rights. The organization will also work to empower people, particularly girls and young women, who are at risk of exploitation, abuse and criminal justice involvement.
Working remotely, numerous students contributed to JFAM's launch, including Anna Choi '20 who incorporated JFAM, successfully applied for tax-exempt status, and oversaw the initial meeting of the board of directors. Janae Wilson '22 prepared a comprehensive guide for JFAM on fundraising in all 50 states. They were assisted by Ayanna Hill '21 and clinic staffer Akeisha Gregory. "Her story not only highlights the numerous flaws of our criminal justice system, but I also found her perseverance and recommitment to her faith truly inspiring," Wilson said.
Professor Lauren Rogal developed and teaches Vanderbilt's Turner Family Community Enterprise Clinic, in which students support nonprofit organizations and start-up entrepreneurs. Rogal began her legal career as an associate with Klamp & Associates, a D.C.-based law firm that represents nonprofits and social enterprises, where she focused on developing sustainable financing structures for community development and facilitated complex international transactions.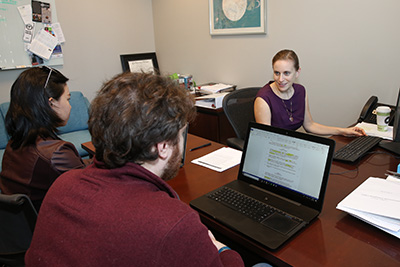 ---