"Crypotodad: The Fight for the Future of Money," new book by Chris Giancarlo '84, offers eyewitness account of the rise of Bitcoin
Sep 8, 2021
CryptoDad: The Fight for the Future of Money, a new book by Chris Giancarlo '84, now chairman emeritus of the U.S. Commodity Futures Trading Commission, offers an eyewitness account of the rise of Bitcoin, crypto and central bank digital currency. Giancarlo served as a CFTC commissioner for five years and as the commission's chairman from 2017 to 2019.
"The book explains in simple and understandable language the workings of these innovations and how they are transforming financial services, including the most valuable thing of all: money," Giancarlo said. "It provides a dramatic, eyewitness view of my efforts during the Obama and Trump administrations to modernize oversight of America's financial markets."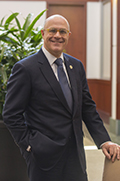 During his five years as a CFTC commissioner, Giancarlo found himself on the front lines as the CFTC greenlighted the world's first regulated market for Bitcoin derivatives, an action he says engendered political fallout in the U.S. and global derision. He believes that, by braving the political risk of greenlighting the debut of Bitcoin futures, the CFTC provided the regulatory certainty essential for today's burgeoning crypto industry.
"The greatest danger to America's future is Washington's focus on the past," Giancarlo stated. "My book urges courageous new leadership to harness the digital reordering of the global economy and the coming future of money."
After leaving the CFTC in 2019, Giancarlo co-founded the Digital Dollar Foundation. He practices of counsel with Willkie Farr & Gallagher in New York and has served as chairman of Common Securitization Solutions since January 2020. He also sits on the board of the American Financial Exchange.
---
Alumni L&B News and Events PoLI News and Events VIPP News and Events