Dan Sharfstein appointed to Vanderbilt Law's Tarkington Chair of Teaching Excellence
Sep 12, 2016
Legal historian Daniel J. Sharfstein, who co-directs Vanderbilt's George Barrett Social Justice Program, has been appointed to the Tarkington Chair of Teaching Excellence, a three-year appointment that honors law faculty for outstanding teaching and scholarship. Sharfstein, who holds a secondary appointment in Vanderbilt University's College of Arts and Science as a professor of history, is also a member of the 2015-17 class of Chancellor Faculty Fellows, who were the inaugural cohort.
Sharfstein's scholarship focuses on the legal history of race in the United States. He received a 2013 Guggenheim Fellowship to support his work on a book-length exploration of post Reconstruction America, Thunder in the Mountains: Chief Joseph, Oliver Otis Howard, and the Nez Perce War, which will be released in 2017. His previous book, The Invisible Line: Three American Families and the Secret Journey from Black to White (Penguin Press, 2011), won the 2012 J. Anthony Lukas Book Prize for excellence in non-fiction as well as the Law & Society Association's 2012 James Willard Hurst Jr. Prize for socio-legal history, the William Nelson Cromwell Book Prize from the American Society for Legal History, and the Chancellor's Award for Research from Vanderbilt. In addition, Sharfstein's article, "Atrocity, Entitlement, and Personhood in Property," won the Association of American Law Schools 2011 Scholarly Papers Competition.
Sharfstein's work has been published in the Yale Law Journal, the Virginia Law Review and the Minnesota Law Review, among scholarly journals, and his articles and opinion pieces have been published by the New York Times, Slate, Washington Post, Economist, American Prospect and Legal Affairs. For his research on civil rights and the color line in the American South, he received an Alphonse Fletcher, Sr., fellowship and a National Endowment for the Humanities fellowship, and he was the inaugural recipient of the Raoul Berger Visiting Fellowship in Legal History at Harvard Law School. He has twice won Vanderbilt Law's Hall-Hartman Outstanding Professor Award. He teaches Property, American Legal History and a seminar, The Legal History of Race in the United States: Slavery, Segregation and Civil Rights.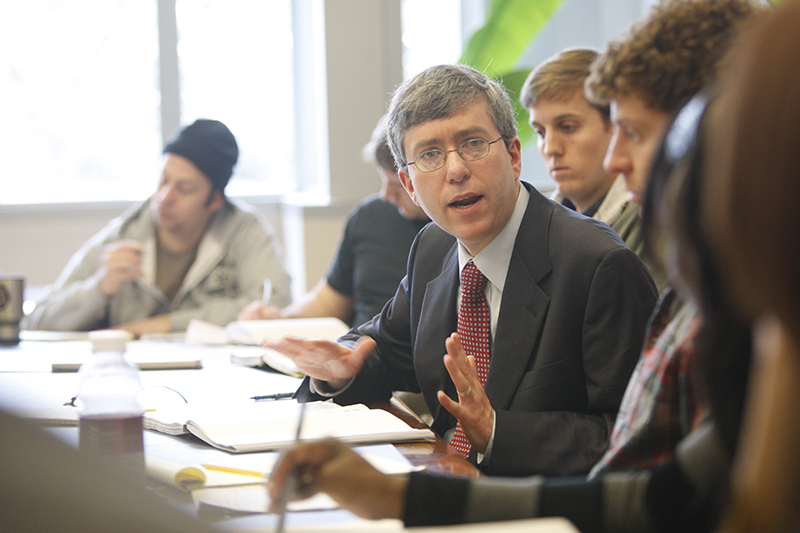 A graduate of Harvard College and Yale Law School, Sharfstein was a law clerk for Judge Dorothy W. Nelson of the U.S. Court of Appeals for the Ninth Circuit, and Judge Rya W. Zobel of the U.S. District Court for the District of Massachusetts. He was also an associate at Strumwasser & Woocher, a public interest law firm in Santa Monica, California. Prior to law school, he worked as a journalist in West Africa and Southern California. Before joining Vanderbilt's law faculty in fall 2007, he was a Samuel I. Golieb Fellow in Legal History at New York University School of Law.
Sharfstein is the sixth member of Vanderbilt's law faculty to hold the chair. Previous holders of the chair are Edward Cheng, Tracey George, Thomas McCoy, Richard Nagareda and Michael Vandenbergh.
"I joined Vanderbilt in large part because we have a faculty who are not only driven and imaginative scholars, but they also care deeply about teaching our wonderful students," Sharfstein said. "To be awarded this chair, which has been held by some of my most cherished mentors and colleagues, is a special honor. It's inspiring and humbling."
The chair was endowed in 1998 by the late Carlton B. Tarkington '63 (BS'59), who was Vanderbilt Law School's 2011 Distinguished Alumnus. Tarkington retired from a successful career as an executive with West Publishing and then founded Edinburgh Investments, an investment banking firm, in 1996. He then founded two additional banks, the Bank of Bellevue and PrimeTrust Bank, which merged with Bank of the South in 2006. Tarkington served on the law school's Board of Advisors when it was known as the National Council. He also endowed the law school's Tarkington Suite, which includes the library's reading room, a computer lab and a computer room.
Sharfstein was also honored as a fellow of Vanderbilt's Robert Penn Warren Center for the Humanities in both 2012-13 and 2014-15, participating in faculty seminars on "The Age of Emancipation: Black Freedom in the Atlantic World," and "Public Scholarship in the Humanities."
"Dan Sharfstein is a terrific teacher, mentor and scholar and has contributed significantly to the development of our George Barrett Social Justice Program," said Chris Guthrie, Dean and John Wade-Kent Syverud Professor of Law. "The Tarkington Chair is fitting recognition of his outstanding contributions to our students both inside and outside the classroom."
---