Daniel J. Sharfstein's new book explores intertwined history of race relations and property rights
Sharfstein brings both men vividly to life in a history replete with fascinating details; he spent five years doing archival research and weeks tracing the 1,400-mile course of the Nez Perce War by car, on foot and on horseback. In the conflict between Nez Perce bands and the federal government, Sharfstein finds a story that illuminates the troubled, intertwined history of race relations and property rights in the United States.
Sharfstein uses the conflict between Joseph and Howard to show how America went from emancipating slaves after the Civil War to harsh discrimination against all non-whites within a few short years. "In 1865, the United States was a beacon of liberty and equality in the world," said Sharfstein, who holds the Tarkington Chair in Teaching Excellence and the Chancellor's Chair in Law. "Fast forward 35 years, and America is a Jim Crow nation."
The West played a pivotal role in that transition, becoming "the site of a massive exercise in state power to benefit one group at the expense of another," Sharfstein said. "Understanding how some of the same people who fought for one vision of America became the architects of a seemingly antithetical vision is crucial to understanding the divisions that define modern America."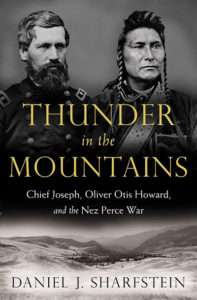 In Sharfstein's account, Chief Joseph emerges as an advocate who cannily invoked Reconstruction-era values of liberty and equality to plead for his people. In 1873 he initially succeeded in stopping white settlers from taking his ancestral territory in Oregon's Wallowa Valley—a land grab the federal government claimed the tribe had agreed to—by pointing out that his band was never party to any treaty negotiations. Joseph compared the federal treaty to a white man telling him, "Joseph, I want to buy your horses," and when Joseph refuses to sell them, paying Joseph's neighbor for the horses and then returning to tell him, "'I have bought your horses and you must let me have them.' If we sold our lands to the government," Joseph said, "this is the way they were bought."
Howard, a West Point graduate sent to command army forces in the Northwest, had championed African American liberty and equality as head of the Freedmen's Bureau during Reconstruction. But in the spring of 1877, he gave all Nez Perce bands 30 days to move onto an Idaho reservation, an ultimatum that sparked a series of revenge killings. Once the bloodshed began, Howard relentlessly pursued the Nez Perce through the Northern Rockies to the Canadian border, killing hundreds. "Joseph's war was less a series of military tactics than a cruel lesson on what the government could do to Americans if they tried to live the lives they wanted," Sharfstein said.
In Sharfstein's telling, the Nez Perce War was a pivotal struggle over who gets to claim the American dream, a battle of ideas over the meaning of freedom and equality, and the limits of what the government can and should do for its people. The war Howard and Joseph fought, Sharfstein contends, is one that Americans continue to fight today.
---
Alumni Faculty News General News Home Page News Summer 2017 Vanderbilt Law Magazine