Daniel Sharfstein awarded 2012 Cromwell Book Prize for The Invisible Line
Nov 15, 2012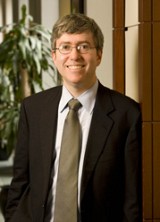 Daniel J. Sharfstein has received the 2012 Cromwell Book Prize for The Invisible Line: Three American Families and the Secret Journey from Black to White, published in 2011 by Penguin Press.
The book explores how Americans have thought about and experienced race and how concepts of race have changed from the colonial era to the twentieth century by chronicling the histories of three families whose members crossed the color line from black to white.
The Cromwell Book Prize is awarded annually by the William Nelson Cromwell Foundation to recognize excellence in scholarship in the field of American legal history by a junior scholar. The prize winner, who receives a $5,000 cash award, is selected each year by the American Society of Legal History's Cromwell Prize Advisory Committee.
"In this thoroughly researched, beautifully written, and intensely moving book, Daniel Sharfstein tracks the experiences of many generations of three families originally classified as 'black' as they found new identities across the color line," the Cromwell Advisory Committee announcement of Sharfstein's award stated. "His massive research, which combines a tireless and ingenious search for sources and sensitive interviews of living subjects, is almost invisible, thanks to prose that combines the lawyerly virtues of clarity and precision with the literary ones of sympathy and grace. The people in this book become almost palpable as they navigate the treacherous waters of racial identity. So does an important historical fact. The color line was never simply a matter of black and white; it was a legal and social construction that accommodated the informal perceptions of color that neighbors and associates acted on every day. Whatever the law in the books, courts were often reluctant to change the racial status of persons who had been acting white or had been treated as white or had white friends and enjoyed high social status. The Invisible Line makes a major breakthrough in the study of the law of race by showing how it was performed in the lives of ordinary people throughout American history."
Sharfstein has won two other prizes for The Invisible Line in 2012, including the J. Anthony Lukas Book Prize and the James Willard Hurst Prize of the Law and Society Association. The Invisible Line was also a Booklist "Editor's Choice" for 2011 and named one of the Chicago Tribune's favorite books of 2011.
Sharfstein joined Vanderbilt's law faculty in 2007 after serving as a Samuel I. Golieb Fellow in Legal History at New York University School of Law. He earned his law degree at Yale and practiced with Strumwasser & Woocher, a California-based public interest firm, before entering the legal academy.
Sharfstein also was awarded the Association of American Law Schools' 2012 Scholarly Paper Prize for his article, "Atrocity, Entitlement and Personhood in Property" (Virginia Law Review, 2012), in which he explores how people relate to and identify with their property when they have committed violent or unneighborly acts for it.
---
Faculty News General News Home Page News Public Interest News