Darren Robbins '93 named Vanderbilt Law's 2017 Distinguished Alumnus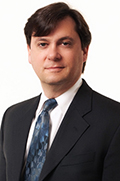 Darren Robbins '93 will be honored as Vanderbilt Law School's 2017 Distinguished Alumnus during its annual Founders Dinner March 31.
Robbins ranks among the most respected securities litigators in the world. He is a founding partner of San Diego-based Robbins Geller Rudman & Dowd, a firm with 200 lawyers in 10 offices across the U.S. Robbins has served as lead counsel in more than 100 securities actions, spearheading landmark cases that resulted in record-setting recoveries for shareholders.
Robbins endowed VLS's George Barrett Social Justice Program in 2015 in memory of his friend and mentor, the late George Barrett, JD'57. His gift funds an academic program that prepares students for careers in public interest law along with summer and post-graduate fellowships to enable students and graduates to gain experience and launch their careers in legal advocacy.
"Darren has successfully litigated many high-profile cases, founded a leading firm, and been a tireless advocate for corporate governance reform," said Dean Chris Guthrie. "We are grateful for his contributions to the legal profession and to Vanderbilt Law School as a member of our board, an active alumnus and the benefactor of our social justice program."
A hallmark of Robbins' practice has been corporate governance reform. He represented the California Public Employees Retirement System as the lead plaintiff in re: UnitedHealth, a securities fraud class action arising out of an options backdating scandal. He recovered a record $925 million in cash for shareholders and obtained the cancellation of more than 3.6 million stock options held by the company's former CEO, along with sweeping corporate governance reforms. Representing the University of California as the lead plaintiff in the wake of the Enron scandal, Robbins and his team recovered in excess of $7.2 billion for the benefit of investors.
He has been recognized as a leader in the profession by numerous legal publications. Among many other honors, he was named as the 2003 California Lawyer of the Year by California Lawyer magazine and recognized as one of the "Top 100 Lawyers Shaping the Future" by the Daily Journal in 2008.
Robbins earned a bachelor's and master's degree in economics from the University of Southern California before earning his law degree at Vanderbilt. He and his wife Kim have six children, including Sarah Robbins '15 and Rebecca Robbins, Peabody College Class of 2020.
---