Dick Aldrich: Throughout the decades, he has maintained close ties to VLS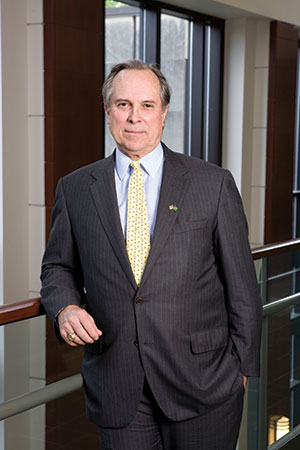 Richard S. (Dick) Aldrich Jr. '75 is a citizen of the world, but he found a home when he came to Vanderbilt Law School.
The renowned international capital markets lawyer was born in New York, raised in New York, Rhode Island and Brazil, and then majored in Latin at Brown. After earning his undergraduate degree, he taught Latin at the prestigious St. Mark's School for a few years, and then set his sights on business school. A trusted advisor at Brown recommended he look at Vanderbilt Law School.
"I came here for a weekend visit, and everything just seemed to fit," Aldrich recalled during a recent trip to Vanderbilt, where he taught a short course on International Mergers and Acquisitions. "I saw a friend from college here, met some professors, and that was it. I made some of my closest friends when I was in law school, and I still rely on what I learned in those three years."
Aldrich started his law career in New York—and returned there several times—then took posts in Athens, Hong Kong and Brazil. Throughout the decades, he has maintained close ties with his VLS classmates and the school itself. In addition to serving as an adjunct professor, he has served on the Alumni Board and Reunion committees, contributed to the law school renovation, led the fundraising for the New York Alumni Chancellor's Chair and supported scholarships.
To honor him for his long and remarkable relationship with VLS, Aldrich has been recognized with the 2013 Distinguished Alumnus Award. He received his honor at the Founders Circle dinner in April. "It's an honor to call Dick Aldrich an alumnus of Vanderbilt Law School," Dean Chris Guthrie said. "He has an international practice, but he continues to keep Vanderbilt in his sights."
After graduating from Vanderbilt, Aldrich joined Shearman & Sterling in New York City. His first overseas posting was in Athens for Citibank's Middle East/Africa division, where he ran a one-attorney office with two secretaries and five TelEx machines for three years. "I had so many opportunities to handle matters that most second-year associates never had," he said. "I was well-prepared by Vanderbilt. I loved what I was doing."
He took over the Hong Kong office in 1984, where he represented the Chinese government with foreign entities during the time that marked the end of British rule in Hong Kong. From 1987 to 1994, he represented the Bank Advisory Committee of Brazil in Brazil's $120 billion foreign debt restructuring, and in 1992, he represented Aracruz Celulose S.A. in the first SEC-registered, NYSE-listed IPO of a Brazilian company.
In 2004, he was named to lead Shearman's office in Sao Paulo, Brazil. In 2009, he joined Skadden Arps Slate Meagher & Flom as a partner and head of its Sao Paulo office and continues there today. For his efforts in Brazil, he has been awarded the Order of Rio Branco from the Brazilian government, the Order of Merit and the Santos Dumont Medal from the Brazilian Air Force, and the Order of Merit and the Pacificador Medal from the Brazilian Army.
Despite his world travels, Aldrich still feels a strong connection to Vanderbilt. Each year, he meets former classmates Mark Dalton, Michael Hammond and Conrad Roberts in New York, where they catch up over lunch at a renowned restaurant. "They remain my three best friends," he said. "Vanderbilt is a special place."
---