Distinguished Alumnus Award: Frank M. Garrison
Law school benefits from his commitment to justice and equality
By Jan Read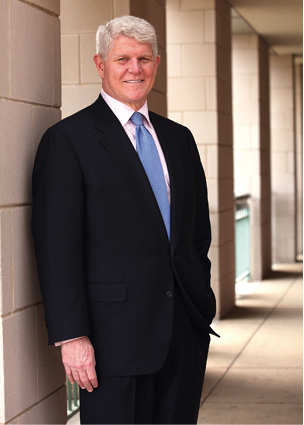 Talk with Frank Garrison '79 (BA'76) for more than a few minutes, and he'll probably use the word "fairness." The concept of equal access, justice and treating all people kindly runs deep in him, and is the driving principle behind the gifts he and his wife, Amy Price Garrison (BA'79), have made to Vanderbilt Law School.
"Life shouldn't be a lottery, where some people win and some people don't," Garrison said. "To look at it one way, I won the lottery—I'm an upper-class white male in the United States. So the skids were greased for me, in a way. If I had grown up poor, a minority, in a rundown neighborhood, should I have had fewer choices?
"Fairness permeates my view on a lot of things," he continued. "We can always do better, we can always work harder to eliminate injustice and inequality. It's one of the most important things we can do." The Garrisons have invested more than $1 million in the law school over the past two years to support the Social Justice Program, and Frank's dedication to Vanderbilt and the law school runs deep and wide. He serves on the school's Board of Advisors, which he chaired from 2006 to 2009. He was the university's general chair of Reunion in 2013. For this and more, he was honored as the law school's Distinguished Alumnus at the spring 2014 Founders Dinner.
"Frank's enviable business success is matched by a deep commitment to the community, the university and the law school," Dean Chris Guthrie said. "That commitment has a global impact. Through the Social Justice Fellowship, law school students have worked for a number of organizations, including the ACLU, the United Nations International Tribunal for Rwanda and the International Justice Mission in India."The Amy and Frank Garrison Social Justice Fellowship provides financial support to students doing social justice work during summers on behalf of the disadvantaged, disenfranchised, dispossessed, and discriminated against. The newly established Amy and Frank Garrison Social Justice Scholarship will provide scholarship support and guaranteed summer support to at least one law student in each class who is committed to a legal career in social justice. "We wanted to construct a gift that would really have an impact and leverage the commitment of these students," Garrison said. "Even if these students don't go on to a career in the public interest, this program will change their perspectives and, we hope, their future actions. After 10 years of the program, think of how many people will have benefited from that."
Garrison, a Nashville native, earned both his undergraduate and law degrees at Vanderbilt. "Law school was challenging every day. That constant asking of 'why, why, why, why'—I use that skill all the time in the work I do now," he said. "Because of my legal training, I know a lot of the questions. I don't know all the answers, but I usually know what to ask." After graduation, Garrison joined Farris Warfield & Kanaday in Nashville, then pursued a career in real estate finance, ultimately joining Insignia Financial Group, one of the world's largest real estate firms. He is a partner in Island Capital Group, an international real estate merchant banking firm. Currently, he is president of C-III Capital Partners, an Island-controlled company that is the largest special servicer of securitized commercial real estate debt in the U.S.
---