Distinguished Alumnus Award Winner: Charles 'Chet' Gerdts III '78
Charles "Chet" Gerdts III '78 is remembered as a brilliant legal professional, devoted husband and father, trusted adviser and loyal friend.
By Kara Furlong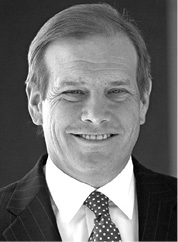 A staunch supporter of Vanderbilt Law School, Gerdts served on the Board of Advisors. He was posthumously honored with the law school's Distinguished Alumnus Award at the spring 2015 Founders Dinner. Gerdts died from complications related to leukemia in 2012.
Bob Reder '78 remembers the first contact he ever had with Gerdts nearly 40 years ago. It was the summer before both were to start at the law school, and Gerdts phoned him seeking a roommate. Since both were from the Northeast, Gerdts reasoned, they might be a good fit. "We first met when I drove down to Nashville and met him at the apartment," Reder said. "We were roommates for the next three years—we basically did everything together."
Reder, who retired as a partner at Milbank Tweed Hadley & McCloy in New York in 2011 and is now a professor of the practice of law at Vanderbilt, recalls a close-knit group of students who worked, studied and socialized together. Gerdts, a native New Yorker, stood out for his competitiveness and drive, but also for being warm, generous and down-to-earth. "Chet was one of those guys who got along with everyone," Reder said. "He knew he wanted to work in Manhattan; he knew the law firms, while I didn't know the ropes at all. I followed his lead in so many respects during law school. I owe him a lot."
Pat Mulloy '77 (BA'74) met Gerdts when both served on the staff of the Vanderbilt Law Review. Charmed by Gerdts' quick, dry wit, Mulloy embarked on a friendship that lasted more than 35 years. "Chet was my closest friend in the world and the best guy I ever met," Mulloy said. "He was like my brother. He was godfather to my son. He served as my lawyer on business matters."
Gerdts and Mulloy studied together for the New York bar exam during the summer of 1978 at the law library of Donovan Leisure Newton & Irvine, where Gerdts became an associate and, in 1986, a partner. Gerdts later joined Orrick Herrington & Sutcliffe, where he served as managing partner of the firm's litigation department and on its executive committee.
In 2002, Gerdts joined Pricewaterhouse-Coopers, one of the world's largest professional services networks, as its general counsel just a few months after Congress passed the Sarbanes-Oxley Act, which created strict new financial reporting requirements for public companies. He guided the firm through the transition and was managing a legal department of more than 60 professionals as well as a worldwide network of law firms that did work for PwC at the time of his death.
"I used to tease Chet that I could read about his legal work in The Wall Street Journal, and he couldn't find mine," said Mulloy, who practiced law for nearly 20 years in his hometown of Louisville, Kentucky, before becoming CEO of Elmcroft Senior Living Communities. "Whenever I had any kind of serious issue, personal or professional, he was the counselor I sought out. He was a person of enormous integrity and enormous insight."
Countless others felt the same. Gerdts, who gave generously to the law school, had pledged to endow a scholarship. After his death, more than 165 of his classmates, colleagues and friends stepped forward to fulfill that pledge in his honor, establishing the Charles W. Gerdts III Scholarship. "The scholarship is a perfect way to remember Chet," said Reder, who believes Gerdts would be honored and humbled. "It would mean a great deal to him."
"Chet had a strong work ethic and impeccable judgment," Mulloy said. "He listened. He was not quick to react. He had a sense of fearlessness about him. He could navigate complex ethical issues and always end up in the right place. I hope the future Gerdts Scholars will have some sense of who Chet was and carry those qualities forward."
Gerdts' award, presented at the Founders Dinner April 10, was received by his wife of 32 years, Elizabeth, daughter Emily and son Charlie, who earned his bachelor's degree at Vanderbilt in 2013. "Chet loved Vanderbilt," Mulloy said. "We both were so appreciative of the doors it opened for us."
---