Distinguished Alumnus Award Winner: Robert S. Reder '78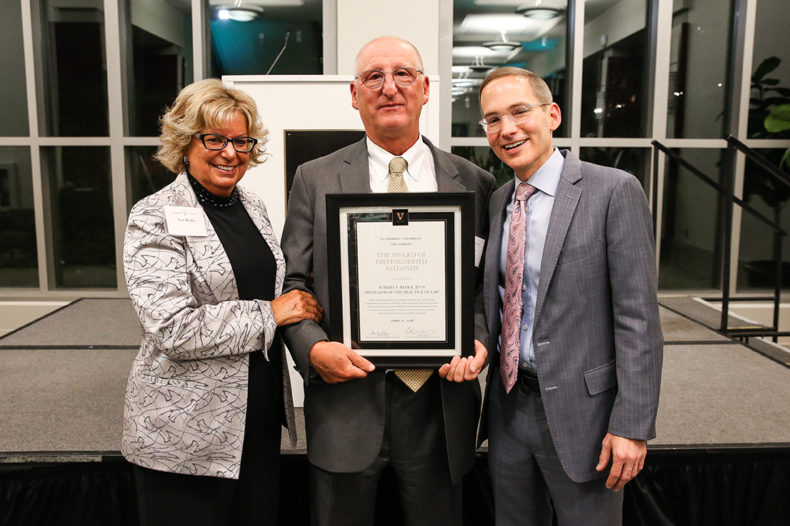 Bob Reder is enjoying his second legal career as a professor of the practice of law at Vanderbilt, where he receives high praise from his students for bringing a "real world" perspective into the classroom. Reder joined Vanderbilt's law faculty soon after retiring from Milbank Tweed Hadley & McCloy in New York City in 2011. He had joined Milbank straight out of law school and practiced corporate law, focusing on M&A at the firm for 33 years. "I loved my work, my practice and my clients, but it was time to see what else I could do," he said.
Teaching, it turns out, was something Reder could do very well. After teaching a seven-week course in private M&A transactions in spring 2013, he accepted an offer to join the permanent law faculty. He spends a semester in residence each year, teaching Negotiated Public M&A and Negotiation and Drafting of Key Corporate Documents. Celine Feys, LLM'18, calls the latter course "hands down the most interesting course I've ever taken in law school, both at home and here." Feys earned a law degree in Belgium before pursing an LL.M. at Vanderbilt and will start work at Mazars Belgium this fall. She appreciated the course's practical orientation. "Taking Professor Reder's class really prepared me for the work I will start doing in September," she said. "I know how to draft transactional documents and know what to pay attention to." Feys also put her drafting skills to work as one of many students who have co-authored Delaware Corporate Law Bulletins with Reder for the Vanderbilt Law Review's En Banc online forum.
Reder and his wife, Terri, whom he met at Milbank, endowed the Enterprise Faculty Fund, which provides faculty members with supplemental research funding, soon after joining the law faculty. Yesha Yadav, a colleague who studies securities regulation, is the current Enterprise Scholar. Reder and his wife have also committed to endowing two additional chairs, the Enterprise Chair and the Robert S. and Theresa L. Reder Chair in Law, the latter through a bequest.
Reder has also served multiple terms on the law school's Board of Advisors and supported a scholarship fund established in honor of his late friend and law school roommate, Chet Gerdts '78, whom Reder met the summer before both started law school at Vanderbilt. A Manhattan native, Gerdts had managed to rent an apartment in Nashville after deciding to earn his law degree at Vanderbilt and then scanned the class roster hoping to find a roommate from the Northeast. "It was a good match," Reder recalled. "Chet had an apartment, and I had a car." The two formed a friendship en route to Nashville, and after their 1L year Gerdts encouraged Reder to look for jobs in New York City, where the pair shared an apartment on Park Avenue while working as summer associates in 1977.
When Reder is not teaching at Vanderbilt, he's likely playing golf, a pastime he approaches with the same enthusiasm he brings to the classroom. "He takes his students to the golf course, too," said Dean Chris Guthrie. "Bob brings positive energy to everything he does, and the law school has really benefited from his presence here, his teaching and his generosity."
---