Distinguished Service Award Winner: Justice Cornelia A. Clark '79 (BA'71)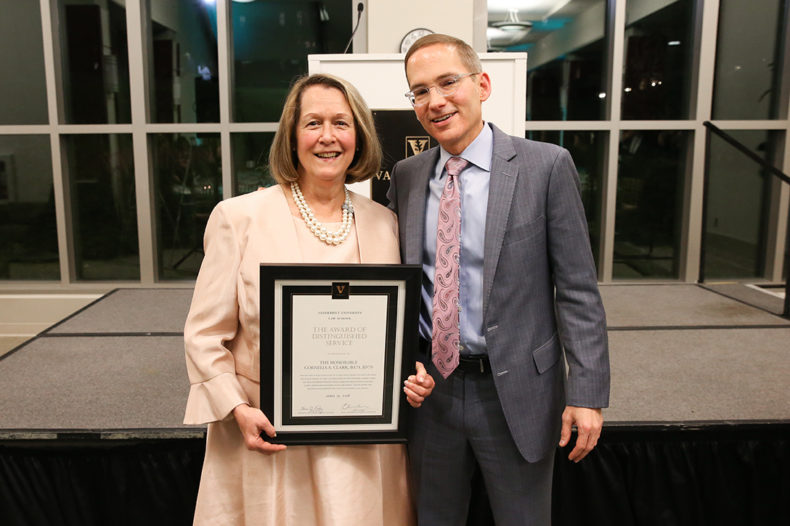 Connie Clark was appointed to the Tennessee Supreme Court in September 2005 and then re-elected to full eight-year terms in 2006 and 2014. When Clark was elected to a two-year term as chief justice in 2010, she became the second woman in Tennessee history to serve in that role. Clark relished the fact that she was sworn into the position by the first, outgoing Chief Justice Janice M. Holder, in a ceremony held at the same Williamson County courtroom where Clark had presented her first arguments as a young lawyer with Farris Warfield & Kanaday and later presided as a circuit court judge for more than 10 years.
Clark represents the eighth generation of her family to live in Franklin, and as a child, she lived three blocks from the courtroom where she first served as a judge. She credits her experience as a Williamson County circuit court judge, working with attorneys with whom she'd practiced and sometimes facing people she'd known since childhood in her courtroom, with confirming her desire to serve her community to her highest capacity. "It's always good to remember where you came from," she said.
Clark did not originally plan on a legal career. After earning her undergraduate degree at Vanderbilt in 1971, she earned a master's in teaching at Harvard University and taught high school history and government in Atlanta. After earning her law degree, she became the first woman partner of Farris Warfield & Kanaday. Then Gov. Ned McWherter tapped her to fill a seat on the 21st District Court in 1989, a seat she left in 1999 to become director of the state's Administrative Office of the Courts.
Clark was most recently recognized with the 2018 Drowota Award, the Tennessee Bar Association's highest award for service to the judiciary; her accomplishments include the implementation of the Access to Justice Commission's first-ever strategic plan in 2010 and the creation of the Tennessee Faith and Justice Alliance, which connects volunteer attorneys with faith-based social justice programs, in 2011. Fittingly, the Drowota Award was named in honor of former Tennessee Chief Justice Frank Drowota '65 (BA'60), who mentored Clark before and after she joined the state's Supreme Court.
In addition to her service to the Tennessee, Nashville and Williamson County Bar Associations, Clark has taught on Vanderbilt's adjunct law faculty, served on the Board of Advisors, mentored students and hired them as clerks. "Connie's entire professional life has been devoted to service, and she's been a tremendous asset to Tennessee's legal community," said Dean Chris Guthrie. "She's a terrific role model who never fails to answer a call from us to fill a volunteer role."
---