Expanded Horizons: Formal Dual-Degree Programs Extend Beyond the Practice of Law
By Grace Renshaw
---
Josh Perry, J.D./M.T.S.'02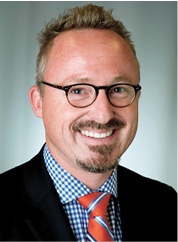 Earning dual degrees in law and divinity initially offered Josh Perry an opportunity to explore the role of religion in society while preparing for a legal career. "I had a set of questions about the role of religion in society," Perry recalled. "But I never planned to enter the ordained ministry. The dual degree was a fantastic opportunity to pursue those larger questions but also get a grounding in the practical realities a legal education makes you aware of."
However, the contrasting perspectives Perry gained from his studies at the law and divinity schools ultimately set him on course for a career teaching and researching ethical issues across professional boundaries. "Spending four years with one foot in two totally different environments with such a diversity of faculty perspectives was transformative," Perry said. "That experience changed me."
Perry now teaches law, ethics and critical thinking at Indiana University Bloomington's Kelley School of Business, where he is also a research coordinator in the Center for the Business of Life Sciences. He also teaches a course on the ethics of health care business as an adjunct professor at Albany Medical College in New York.
But his original plan was to practice law, and he joined Bowen Riley (now Riley Warnock & Jacobson) in Nashville after graduation in 2002. "I loved practicing with them—they put me right into the mix from day one," he said. Three years later, Perry's desire to pursue a career in academia led him to accept a research fellowship at Vanderbilt's newly formed Center for Biomedical Ethics and Society, co-directed by his law school mentor, bioethicist Ellen Wright Clayton. When the fellowship ended, Perry was offered a tenure-track position on Vanderbilt's medical faculty teaching clinical ethics, and he also began teaching Legal Ethics and Professional Responsibility at the law school. "I jumped into the academic world with both feet," he said.
Perry's rapid ascent in the field of medical ethics was due in part to good timing. His fellowship coincided with a heated national debate over Terri Schiavo, a neurologically devastated woman whose husband's desire to remove her feeding tube resulted in a protracted court battle and legislation at the state and federal levels. "The Schiavo case was the perfect storm of law, medicine, ethics and religion," Perry recalled. Clayton and the center's co-director, Larry Churchill, suggested Perry study the case; he has published several articles on issues it raised.
Perry joined Indiana University's faculty in 2009 in part because of family ties. "My wife's a Hoosier," he explained. He also was intrigued by the opportunity to apply ethical principles to business training as a legal studies faculty member embedded in a business school. At Indiana's Kelley School, he teaches both undergraduates and M.B.A. students and relishes the opportunity to bring a broader, interdisciplinary perspective to their professional education. "Lawyers and doctors have a strong incentive to adhere to the ethics of their professions because they can lose their licenses if they don't," he said. "That's not uniformly true with business professionals. With Enron, for example, we saw a parade of horribles when short-term profit-taking and the demands of shareholders became the major priority. I challenge Kelley students to consider the additional obligations businesspeople have to themselves, their organizations and their broader communities."
---
John Haubenreich, J.D./M.P.P. '10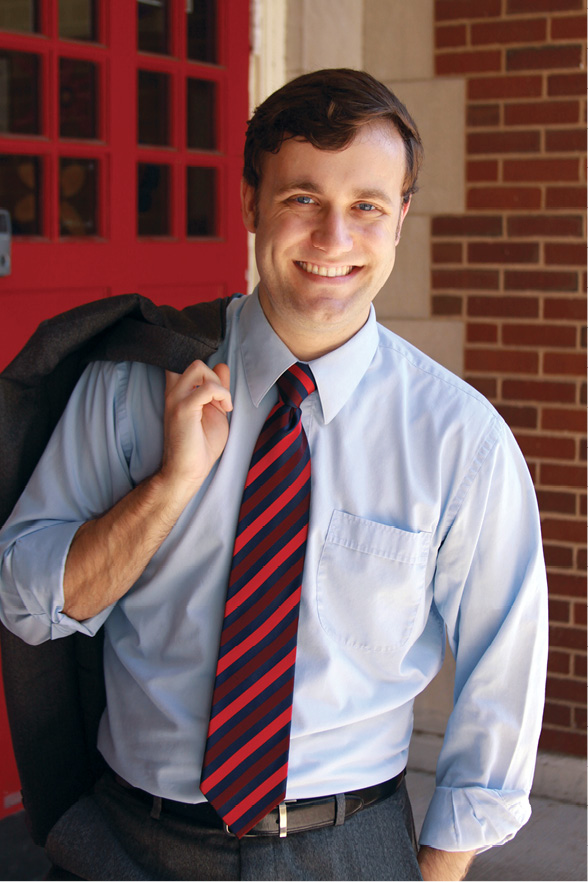 John Haubenreich became aware of the impact of litigation on access to education while teaching at Barringer High School in Newark, New Jersey, through Teach for America. Barringer's school district received additional state funding each year thanks to Abbott v. Burke, a 1985 New Jersey Supreme Court decision requiring that low-income districts receive funding equal to that spent to educate students in the state's wealthiest districts.
Haubenreich had been considering a career in education, but his firsthand experience with the Abbott decision's impact motivated him to read articles about education policy and litigation. A teaching assignment in Barringer's "Legal Academy," which prepared students for law enforcement careers, sparked his interest in law. He began searching for schools offering dual-degree programs in law and public policy. Vanderbilt quickly emerged as a top choice. "Vanderbilt is one of the few schools that offers a formal J.D./M.P.P. program, and both schools are top-ranked," he said.
When his service with Teach for America ended, Haubenreich and his wife, Sara Beth Myers '09, who had met as Duke undergraduates, moved to Nashville. Myers, who had earned her M.A. from Yale while Haubenreich taught at Barringer High, encouraged her husband to pursue dual degrees. Both started law school at Vanderbilt in 2006 in different sections.
Now an associate at Waller Lansden Dortch & Davis in Nashville, Haubenreich focuses on federal enforcement actions, including those under the False Claims Act, as well as copyright law. The training he received in his master's program informs his legal work. "Government agencies use statistical analysis to identify suspected fraud and look at damages, and I actually keep my econometrics textbook from my class at Peabody in my office," he explained. "On a broader level, many of my clients interact with state and federal regulators, and some are interested in the legislative or policymaking process—they need to know what's on the table and how it might affect them."
Haubenreich is also active in Nashville's education community. He helped found the Nashville Community Darkroom as a nonprofit educational resource for East Nashville students. He reports on education policy and politics through TN Education Report, a website and Twitter feed he established with two co-authors. "One of the really valuable things about Peabody's M.P.P. program was that they require you to get out in the world and get some practical experience," Haubenreich said. "I spent a year interning in the mayor's office, and that helped me understand the broad sweep of policymaking within Metro Nashville and to make contacts with the people engaged in education policy here."
Haubenreich also gained visibility as a public education advocate during his 2012 bid to serve on the Metro Nashville School Board representing the East Nashville district where he and Myers live. With two young daughters who will soon attend Nashville public schools, Haubenreich promises, "I'll definitely remain involved."
---
Brett Kmiec, J.D.'00, M.Ed.'01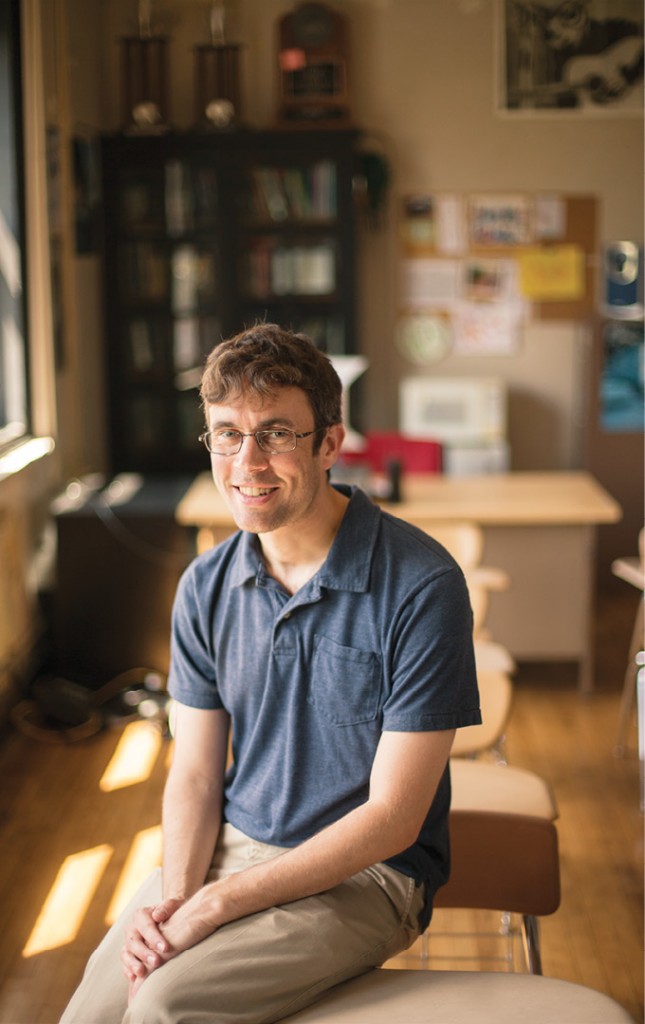 Students at Hume-Fogg Academic High School in Nashville, which ranks among the top public high schools in the United States, seek out Brett Kmiec's history and government classes because of his outstanding teaching. Kmiec has taught U.S. and comparative government at Hume-Fogg since 2006, and he credits his desire to spend his career as a teacher in part to his experience as a Vanderbilt law student. "I was fortunate to have [former Vanderbilt professor] John Goldberg for Torts, and not only was it my favorite class in terms of the content, but the way he taught it—his clear comfort in teaching and his obvious intellect—were a wonder to behold," Kmiec recalled. "Being in the presence of a great teacher who clearly enjoyed what he was doing had a big impact."
Kmiec later worked on a juvenile justice reform project with the late Professor Don Hall while interning with the Tennessee Supreme Court. "I loved Don, and I took every course he offered," Kmiec said. His work with Hall piqued his interest in working with teens. It also led to an offer to work in the Davidson County juvenile prosecutor's office after graduation, prompting Kmiec to think long and hard about his future career. "By the time a kid enters the juvenile justice system, society has somehow failed that kid," he said. "As a teacher I could work proactively to make a difference in people's lives before they saw the inside of a courtroom."
Kmiec started a master's program at Peabody College the summer he earned his J.D. As a student teacher the following year, he was assigned to work under Hume-Fogg's government teacher, Paul Fleming. When Fleming became Hume-Fogg's principal five years later, he hired Kmiec—who was teaching at another Nashville high school—to replace him on the teaching staff.
Law school, Kmiec found, was ideal preparation for teaching government. He incorporates elements of Hall's and Goldberg's teaching styles into his own teaching. "Professor Goldberg used humor to get across a serious point, and Don Hall could turn a set of facts into a story," he said. "Their influence is very much present in what I do every day."
Kmiec's students often ask him why he chose teaching rather than law practice. "They hear that teaching is a low-paying, unsatisfying profession, and they ask, 'Are you happy doing what you do?'" he said. "I love teaching—90 percent is work I enjoy doing, and the other 10 percent is the paperwork. That's a good ratio for any profession."
Kmiec also regards his legal education as a good investment even though he never practiced law. "My experience at Vanderbilt Law was so important in helping me figure out what I wanted to do with my life," he said. "I look at the good experiences I had, the people I met, the good quality of what's in my mind and my life in Nashville, and I have no regrets."
---