J. Daniel Feltham and Cameron Norris, both Class of 2014, shared the Richard S. Nagareda Prize for their Notes in Vanderbilt Law Review
May 23, 2014
The Richard S. Nagareda Prize is awarded annually by the Branstetter Program in Litigation & Dispute resolution for the best written work in the field of litigation and dispute resolution.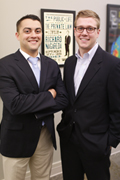 This prize carries on a tradition established by the late Professor Richard Nagareda, the first director of Vanderbilt's Branstetter Program in Litigation & Dispute Resolution. Professor Nagareda recognized the best paper written by a student in his Litigation Capstone Seminar each year. After Nagareda's untimely death in 2010, the Branstetter Program faculty named the annual prize for Professor Nagareda and expanded eligibility to all graduating students for any work completed in the fields of litigation and dispute resolution while they were enrolled as a Vanderbilt law student.
Danny Feltham's Note, "Surviving Mauritius: The Continued Vitality of Shareholder Class Actions," engages in an important debate over the use of "embedded collective action waivers" in corporate charters. Corporate boards include such waivers in charters to prevent shareholder class actions. Without the availability of the class action vehicle for addressing their claims, many shareholders would lack a means of realizing their rights due to litigation costs. Many commentators portend the death of shareholder class actions if such embedded waivers are found to be enforceable. While concluding that such waivers are likely enforceable under current federal and state law, Feltham makes a new and creative argument that the market will effectively prevent widespread use of such waivers. Shareholders will be able to block the adoption of waivers through direct and indirect control over corporate behavior.
Cameron Norris's Note, "Drugs, Devices, & Discovery: Using Fee-Shifting to Resolve the Twombly / Iqbal Problem for Parallel Claims Under the FDCA," also contributes to an important debate in the field of civil justice: the true impact of two watershed Supreme Court decisions on the ability of plaintiffs to survive motions to dismiss and thus have an opportunity to gain important discovery from defendants. Norris finds that the plausibility pleading standard can prevent credible claims from being pursued where those claims are deemed parallel claims—state common-law claims based on violations of federal law. He persuasively argues for a creative solution to the problem.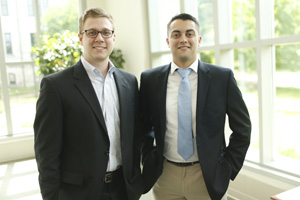 Norris will serve as a judicial clerk for Judge Karen LeCraft Henderson of the U.S. Court of Appeals for the District of Columbia Circuit in 2014-15 and for Judge William H. Pryor Jr. of the U.S. Court of Appeals for the Eleventh Circuit in 2015-16. Feltham will serves as a judicial clerk for Judge James A. Hancock and Judge R. David Proctor of the U.S. District Court for the Northern District of Alabama in 2014-15.
"We chose to honor two papers this year with the Nagareda Prize because Cameron and Danny both wrote excellent Law Review Notes that contribute valuable insights to current legal debates," George said. "Richard devoted countless hours to working with students on their research. I believe he would have been impressed by the quality and ambition of all of the papers submitted. He also would have been pleased and thankful, as am I, by the time my colleague have devoted to advising our students on their research.
---