Franklin Trapp '09: A Career in Stages
Franklin Trapp '09 (BA'97) returned to his theater roots by acquiring the historical Forestburgh Playhouse in the Sullivan County Catskills.
By Fiona Soltes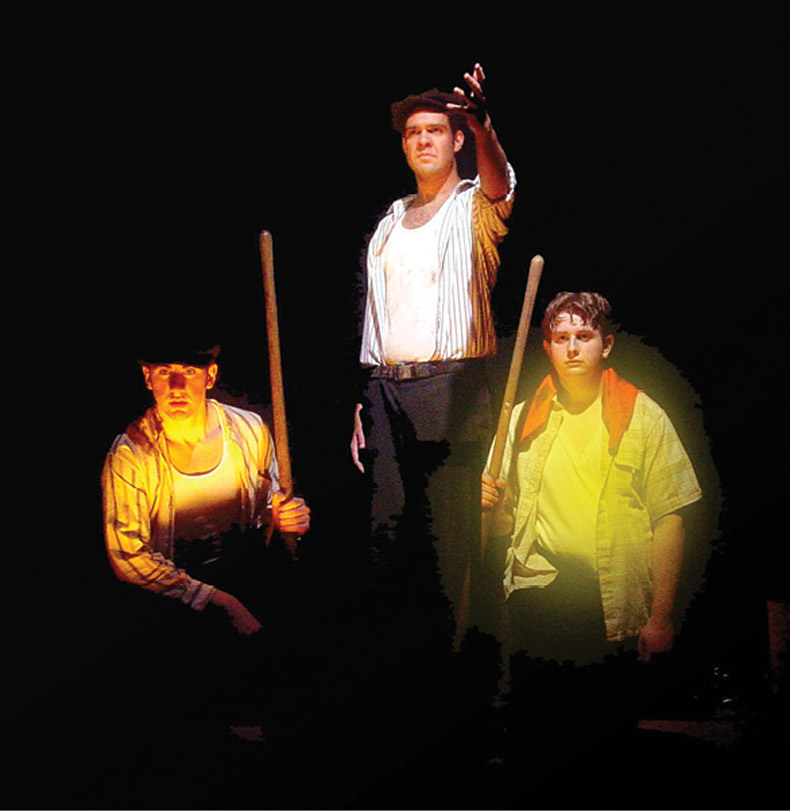 Five years after earning his law degree at Vanderbilt, Franklin Trapp realized that while he had loved learning about the law, he didn't love corporate law practice.
Yearning for a more stable career, Trapp had returned to Vanderbilt for law school nine years after earning his undergraduate degree in Spanish language and literature. As a college student, his original goal was to become a Spanish professor. But Trapp had been acting and singing since playing one of the Von Trapp children in The Sound of Music during grade school, and after a short stint as a teacher, he moved to New York to work in the theater.
Trapp spent the next several years acting, eventually working as a union actor at the Forestburgh Playhouse in upstate New York, where he also directed productions. When he decided to consider a career that would provide "a more consistent financial lifestyle," law school appealed to him. "I was looking for a way to mesh the skills I had learned as a teacher and as an actor, and law seemed like a great fit because attorneys have to interact with others effectively both as advocates and educators," Trapp said. He excelled in his law classes at Vanderbilt and landed a coveted position with DLA Piper in Atlanta when he graduated in 2009.
Three years later, Trapp found himself knee-deep in billable hours in his day job as a commercial litigator, but enjoying his pro bono work, which allowed him to use his Spanish language skills to represent indigent clients, much more. Although Trapp liked and respected his colleagues and learned a great deal during his time at DLA Piper, he wanted a different career track than a partnership position 10 years down the road. Thinking he might find work at a smaller firm a better fit, Trapp moved to a boutique firm specializing in commercial real estate. Within months, it became clear to his partner, John Bubb, that Trapp's dissatisfaction had nothing to do with the size of the law firm. "One day I came home from work totally stressed out, and John said, 'You've been miserable for the last four months. It's clear to me that this is not the right path for you,'" Trapp recalled.
Trapp had heard that the Forestburgh Playhouse was up for sale. Bubb suggested it was time to make the call. In January 2014, "during the worst winter they ever had," Trapp purchased the Playhouse, located 90 minutes from New York City.
Thanks to his background in commercial real estate transactions, Trapp was able to represent himself in the purchase of the venue and draw up all necessary contracts. Trapp's legal skills also proved invaluable in structuring the corporate entities that make up the business, forming a new nonprofit organization, Theatrical Arts at Forestburgh Inc., and obtaining a liquor license for the Forestburgh Tavern, a part of the property. His first summer season was a big success. "Ticket sales are up, and so are subscriptions," Trapp said.
"Vanderbilt students not only receive an amazing education, but also get to be a part of a marvelous culture that fosters leadership, stimulation and decency," Trapp said. "I have a much greater understanding of everything from the top to the bottom of the business because of what I studied in law school and what I learned as a lawyer. I don't regret a minute of the time I spent in law school or law practice. I learned more in my three years of law school and my years in practice than at any other time in my life. Law is a fantastic background to have—I've just taken an alternative path. When you think creatively and outside of the box, you can flourish in other environments."
After making such a bold move, Trapp views terms like "risk" a little differently. Still new to the job as the Forestburgh Playhouse's producer, he is facing new challenges every day. As a lawyer, he spent much of his time calculating every conceivable risk regarding various business decisions, a skill that he now finds useful as he develops the Playhouse's nonprofit vision, outreach and goals. "I have a huge opportunity to have a positive impact on the community through the arts," he said, "and that's very exciting."
To learn more about Franklin Trapp and the Forestburgh Playhouse, go to fbplayhouse.org.
---