From the Dean: Riding the Wave of Change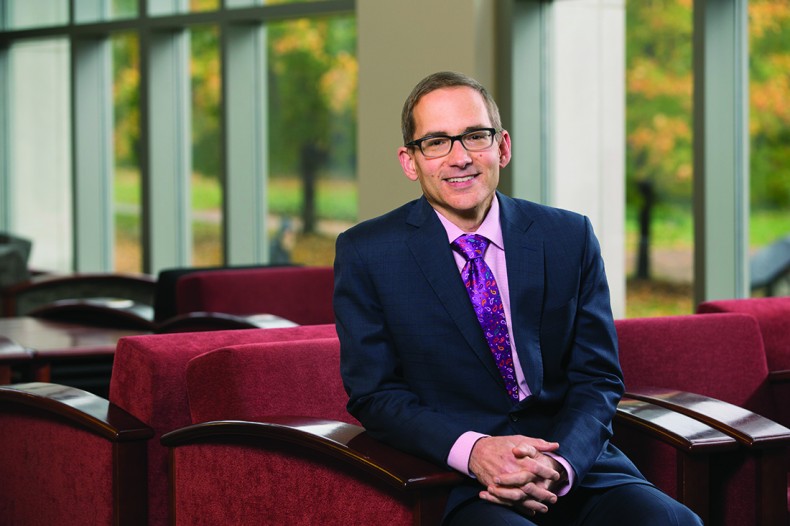 I started my first term as dean of Vanderbilt Law School in summer 2009. The economic collapse of fall 2008 had hit the legal industry like a tsunami, and its impact on the legal profession was immediate and devastating. Law firms reduced or eliminated summer associate programs, deferred start dates for new hires, and laid off staff and attorneys. Students who had committed to law school weeks before with excellent job prospects faced an unexpectedly bleak job market.
As a school, we pivoted. We sought to make sure our students were prepared to ride the wave of change with confidence throughout their careers. Our Career Services staff, led by Assistant Dean Elizabeth Workman, moved quickly to adapt their office to a much more competitive environment. We hosted new job fairs, sent students out to employers rather than relying on employers to come to us, recruited alumni to mentor and supervise students, expanded our professional programming, and created a bridge employment program for graduates. We also worked with legal entrepreneurs like Daniel Reed '94, founder and CEO of UnitedLex, to establish a residency program for Vanderbilt Law graduates.
Likewise, our faculty embraced changes in the legal market, establishing new courses such as Legal Project Management that would have been unheard of only a few years earlier, and Law 2050, developed by J.B. Ruhl, who joined our faculty from Florida State University in 2011. J.B.'s popular Law 2050 course, which addresses the future of legal practice and the legal industry, provided a foundation for our new Program on Law and Innovation, launched last year under his direction. Its purpose: to equip our students to become innovators who shape change rather than simply respond to it. Marc Jenkins '03, now executive vice president of knowledge strategy with Cicayda, a litigation support company, teaches two courses in this program: a class on Electronic Discovery and Information Governance he's offered for several years, and Technology in Legal Practice, first offered last year, in which teams of students work with legal nonprofits under Marc's guidance to develop apps that support and extend their services.
Thanks to the incredible leadership of our faculty, staff and alumni, Vanderbilt Law graduates have fared better over the past six years than most of their peers. But I am not sure we yet understand the "new normal" in the legal profession. In this issue of Vanderbilt Law, we explore this brave new world in an article written by Chris Jaeger '09, who witnessed the impact of the economic downturn on the legal profession during his third year at VLS, as a law clerk to Judge Duane Benton of the Eighth Circuit Court of Appeals, and as an associate at Stites & Harbison in Nashville. Chris, who is now earning his Ph.D. in psychology at Vanderbilt, brings the perspectives of an industry insider and a VLS alumnus.
You'll also learn more about the initiatives we've undertaken to ensure Vanderbilt Law graduates receive an outstanding preparation to thrive in today's legal practice, including our Program on Law and Innovation and the UnitedLex residency program. Finally, we introduce two terrific new faculty members, Tim Meyer, an expert in international transactions and regulation, and Joe Fishman, who studies copyright law.
The ability to navigate and influence change will continue to be crucial as the "new normal" continues to evolve. I'm optimistic about the potential to improve access to legal services, enhance quality through the use of technologies and the application of project management skills, and exploit ample opportunities for innovation and entrepreneurship. I hope you enjoy our section on the state of the legal profession as well as the articles about the ways in which we prepare our graduates to thrive in the dynamic field of law, and I welcome you to send us your stories about how you and those at your firm or your business have successfully adapted to the brave new world of law in the 21st century.
Sincerely yours,
Chris Guthrie
Dean and John Wade–Kent Syverud Professor of Law
---