George Barrett '57 to discuss Geier v. University of Tennessee
Feb 4, 2014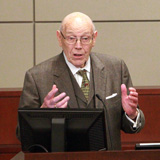 George Barrett '57, a Nashville labor lawyer and lifelong civil rights advocate, will speak at Vanderbilt Law School at noon Friday, February 7, in Flynn Auditorium. Barrett's talk, which is sponsored by the Black Law Students Association, is free and open to the public.
Barrett will discuss Geier V. University of Tennessee, a landmark case that resulted in the desegregation of Tennessee's state universities, his career as a civil rights attorney, and his experiences working at one of Nashville's first integrated law firms.
A lifelong Nashvillian, George Barrett was a member of Vanderbilt Law School's legendary Class of 1957, among whose graduates were a federal judge, a Watergate prosecutor who would become a famed defense lawyer, a Nashville district attorney, a perennial Tennessee gubernatorial candidate, and a host of successful plaintiffs' and defense attorneys practicing throughout the U.S.
After earning his law degree, Barrett jumped into the struggle at his doorstep: the civil rights movement, which by the late 1950s and early 1960s was making its impact felt at lunch counters and department stores in downtown Nashville. He became an unapologetic fighter for equal rights, a reputation he has maintained throughout a career that has so far spanned seven decades.
Barrett, who is a founding partner of Barrett Johnston, maintains a law practice representing unions in benefit and pension litigation, along with a steady stream of civil rights, discrimination and class-action plaintiffs. He continues to file lawsuits on behalf of people denied the right to vote, workers who face discrimination or unfair labor practices, and shareholders who have been defrauded by corporate management. In Nashville, he is known as "Citizen Barrett."
---