Going Global: International Legal Studies Program gives VLS a worldwide presence
By Chris Jaeger '09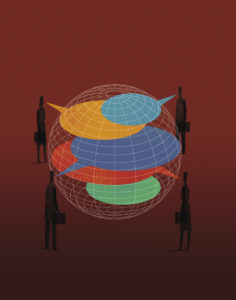 Samar Ali '06 (BS'03) has always thought globally. Growing up in the small town of Waverly, Tennessee, she took regular summer trips with her family to visit relatives around the Middle East. On flights into Jerusalem and Tel Aviv, Israel, a young Ali would draw curious looks when she'd find a seat next to a rabbi and spend the flight discussing Israeli–Palestinian relations. Ali's deep interest in global affairs—and her desire to play an active part in them—eventually brought her to Vanderbilt, where she studied political science as an undergraduate and then earned her law degree.
Upon arriving at the law school, Ali eagerly jumped into the International Legal Studies Program. "I came to Vanderbilt Law School so that I could practice international law," Ali explained. "It was never really a choice for me; it's who I am. And I knew that Vanderbilt would give me the tools I needed to practice on a global scale."
In her young career, Ali has clerked for the Supreme Court of South Africa, played a key role in opening the Abu Dhabi office of multinational law firm Hogan Lovells, and helped craft the United States' policy response to the Arab Spring as a White House Fellow. Today, she continues her international practice from the Nashville office of Bass Berry & Sims, advising local companies interested in taking their business international and international companies interested in bringing their business to Tennessee.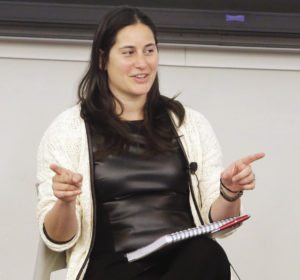 In each of these roles, Ali found she benefited from her experiences with the International Legal Studies Program. "I would not have been able to do the things that I've done," she said, "without that foundation."
---
The International Legal Studies Program provides students with a strong intellectual and practical foundation for practicing law in today's global environment. The program offers students cutting-edge courses, exposure to world-renowned speakers and plenty of opportunities to gain hands-on experience.
Ingrid Wuerth, the Helen Strong Curry Professor of International Law and director of the program, is proud of its breadth. "The program prepares students to practice in any area of international law, from public international law at the State Department to international commercial arbitration to international environmental law to law of war," she said. "Our aim is to give students what they need when they go out into the world to practice in these areas."
Patrick Lynch '10, for one, was prepared to launch his career in international environmental law and policy the moment he graduated. Just a year after leaving the law school, Lynch co-founded Futaleufú Riverkeeper, a Chilean organization that uses legal advocacy to protect a transnational waterway on the Chile–Argentina border. Today, Lynch serves as the international director of the organization, which recently scored a big victory by fending off a Spanish power company's efforts to dam the waterway.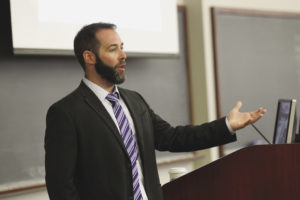 "The International Legal Studies Program and its faculty got me started on this path," Lynch said. He explains that Michael Newton, professor of the practice of law, guided him toward, then helped him secure, a summer job with Riverkeeper, a nonprofit organization dedicated to the protection of the Hudson River and its tributaries, during law school. That experience provided both the inspiration and a working model for Futaleufú Riverkeeper. Further, Lynch credits adjunct professor Will Martin '68 (BA'65) for helping get him established in Chile with valuable contacts.
Importantly, however, the program is not only for students like Lynch and Ali who come to the law school intent on practicing internationally. "In today's world, every practicing lawyer will encounter international issues," Newton said. Thus, the program's mission is to give students with all career interests "the tools they need to deal with these issues when they arise."
Recent graduate Matt Slider '16 says that the program did this for him. Slider is an associate practicing transactional law in the New York office of Millbank Tweed Hadley & McCloy. Even though he is not in an international law practice group per se, his work is "internationally focused" because his clients are global.
Recently, for example, Slider has helped clients with business issues in Australia and Colombia. "Through the program, I became literate in international legal systems and how they operate," he said, "and became confident that I understood and could discuss how those different systems operate with clients."
---
The substantive foundation of the program is a diverse set of more than 25 internationally focused courses. Topics covered range from transnational litigation and arbitration to counterterrorism to human rights. The program's courses are uniformly available to all interested students, with no prerequisites.
Wuerth believes this flexibility is one of the program's assets. Given that international issues now arise in nearly every area of practice, it makes sense for "students to tailor the program courses they take to fit exactly what they want to do," she said.
Lynch echoes this sentiment. He appreciated the freedom to "self-design" his coursework to focus deeply on international environmental law. That focus allowed Lynch to quickly develop a valuable specialty; now, only six years after graduating, Lynch serves on the executive committee of the IUCN's World Commission on Protected Areas Transboundary Conservation Specialist Group.
Some of the program's courses are offered overseas during the popular Vanderbilt in Venice summer program. Students who enroll in Vanderbilt in Venice travel with three professors to Italy, where they spend several weeks studying selected topics in international law.
Slider describes Vanderbilt in Venice as "the ultimate law school experience." He took courses in international trademarks, terrorism, international arbitration, and governance, all while enjoying the culture and sights of Italy. Slider observes that—in addition to being educational and enjoyable—the experience made him more marketable.
"Vanderbilt in Venice conveyed to any employer that interacts with international legal systems and international clients that I was not only willing but eager to work on international law subjects," he said.
In addition to its wide array of course offerings and Vanderbilt in Venice, the program provides students with the chance to build their knowledge of international legal issues by working on the Vanderbilt Journal of Transnational Law. The journal was established by VLS students in 1967 with the help of professors Harold Maier and Jonathan Charney, two forward-thinking international law scholars who laid the groundwork for the program that students enjoy today.
One of the first journals to focus on issues of international and transnational law, it has maintained its prominence in the international law community to this day. Ali vividly remembers that, during her clerkship in South Africa, she walked by the Vanderbilt Journal of Transnational Law every time she entered the court's law library. "It was the first journal on the shelves," she recalled.
---
One major goal of the program is to instill the practical skills that students will need to tackle international issues in their professional lives. The program helps students get valuable practical experience both in the International Law Practice Lab and through externships.
In the International Law Practice Lab, led by Newton, students work on high-profile legal projects for real-world clients that include international organizations, human rights groups, foreign governments, and branches of the United States government. In addition to providing hands-on experience, these projects serve as a vehicle for students to develop concrete reasoning, writing and negotiation skills fundamental to every area of law.
Ali remembers her experience with the Practice Lab working on human rights issues arising in Jordan. The lab is a "force that attracts students who are serious about international work, and then gives them the skills and experience to build from," she said, adding that most of the students who were in the lab with her are practicing international law in some capacity today.
The International Legal Studies Program also offers students an impressive array of externship opportunities. In recent years, the program has placed externs with the Pentagon; the International Criminal Court in The Hague; the Office of the High Commissioner for Human Rights in Geneva; the Syrian Commission for Justice and Accountability in Brussels; and 9 Bedford Row, a criminal litigation firm in London, among other places.
Ali split the summer after her first year of law school between an externship with a law firm in Beirut, and an externship with Judge Edwin Cameron on the South African Supreme Court. During her time in South Africa, Ali lived with the family of social rights activist Desmond Tutu—she had previously met Tutu's daughter, Naomi Tutu (MDiv'16), at Vanderbilt.
Slider also enjoyed a valuable externship opportunity. Inspired by the international trademark course he took during Vanderbilt in Venice, he spent five months of his third year of law school externing with the World Intellectual Property Organization in Geneva. During those five months, Slider was the only American intern at WIPO. "In fact, among all the employees in my division, I was the only American," he recalled.
Slider's externship experience is paying dividends in his practice today. He gained an array of practical legal skills, by working in a law office setting for five months during law school. More than that, though, he has found that "spending time abroad and interacting with other cultures professionally has been useful for interacting with international clients."
In Newton's estimation, the key to the program's record of success placing students in externships is quite simple: The students it places "consistently show up and do a good job," leaving employers wanting more Vanderbilt students. Thanks in part to the International Law Practice Lab, Vanderbilt's externs "walk in with a good, solid base of preparation to actually function and be effective," reflecting what Newton refers to as "a Vanderbilt standard of excellence."
---
For all it offers in coursework and hands-on experience, the heart of the program is its people—both faculty and students.
The program's dedicated group of faculty members have diverse interests and methodologies, but they uniformly have strong academic focus and credentials. Wuerth describes her colleagues on the program faculty as "prolific." The faculty also have impressive backgrounds in international practice to draw on, from private practice to counseling the World Bank to serving with the U.S. State Department. Most of all, however, the program's faculty is committed to helping students succeed in international law. Wuerth notes that "the program is small enough that we know everyone in the law school who wants to do international law." This translates into stories like Lynch's, where the guidance and support of program faculty meaningfully shape young careers.
Ali notes that, in addition to the faculty, her classmates played an important role in her international law training. "The [program's] students are international," she said. "They work internationally, have global mindsets and are some of the most talented thinkers around the world." And, she adds, because the program "creates an environment where students feel secure expressing their opinions," students get valuable chances to engage with norms and thoughts dissimilar from their own.
Thomas Fetzer (LLM'03) echoes this sentiment. Fetzer is now the dean of Mannheim University Law School in Mannheim, Germany. Looking back at his time at Vanderbilt Law School, he says one of the most valuable parts was "being in touch with people from all around the world and hearing their background, knowledge and experiences."
On a more academic level, the comparative perspective Dean Fetzer gained through his time at Vanderbilt has helped his career as a legal scholar in Germany. "It is easier to understand why a different legal culture develops different solutions to problems when you spend time inside that culture," he explained. "In a globalized world, it is essential to know about context."
---
The International Legal Studies Program is stronger now than ever, thanks in part to a recent gift of more than $3 million in the name of Helen Strong Curry from the estate of her daughter, Jean Curry Allen (BA'44).
Funds from the gift have been used to create a new scholarship for students interested in international law. Each year, one Helen Strong Curry International Legal Studies Scholar will be selected from the first-year class to receive supplemental scholarship funds of $10,000 over two years to support his or her work in the program. This adds to an existing set of scholarships and stipends that the program offers for incoming students and students pursuing international externships.
In addition to the new scholarship, the gift has endowed the Helen Strong Curry Chair, the law school's first faculty chair in international law. Wuerth is its inaugural holder.
Wuerth also has taken on a leadership role in helping Vanderbilt University as a whole define its global strategy. She currently co-chairs a working group, comprising faculty from a wide range of disciplines, that is charged with developing a strategy that both supports the international research of faculty and raises the global profile of Vanderbilt as a research institution. That work dovetails nicely with the International Legal Studies Program, which she believes can serve as a model to other schools and departments on campus.
"Between the opportunities to take classes, work on the Vanderbilt Journal of Transnational Law, work in the Practice Lab, and do guided research with faculty," she said, "every student who wants to practice international law will be well-prepared when they walk out the door."
---
International Law Practice Lab assists clients all over the world
In 2012, Abubaker Ahmed Mohamed and 28 other Ethiopian citizens participated in peaceful protests of their government's interference in the exercise of their Muslim faith. Soon thereafter they were arrested, detained, ill-treated and convicted of counterterrorist acts. Now the group is challenging the constitutionality of the law under which they faced criminal charges in the complaint Abubaker Ahmed Mohamed and 28 others v. the Federal Democratic Republic of Ethiopia—and they're getting assistance from a surprising source half a world away: Vanderbilt Law students.
In March, British human rights attorney Oliver Windridge submitted an amicus brief to the African Commission on Human and People's Rights supporting the Ethiopians' case. The brief was prepared by students in Vanderbilt's International Law Practice Lab.
Ethiopia's anti-terror statute was passed in 2009 with the stated intent of combating domestic terrorism, but the students' brief argues that the statute's definition of "terrorist offenses" is too broad. "The statute lists a huge array of offenses that don't rise to the commonly accepted definitions of terrorism," explained Professor Michael A. Newton, who teaches the Practice Lab. The brief also contends that the definition fails to provide adequate notice of what acts constitute offenses and criminalizes constitutionally protected activities, such as the exercise of freedoms of religion, expression, association and assembly.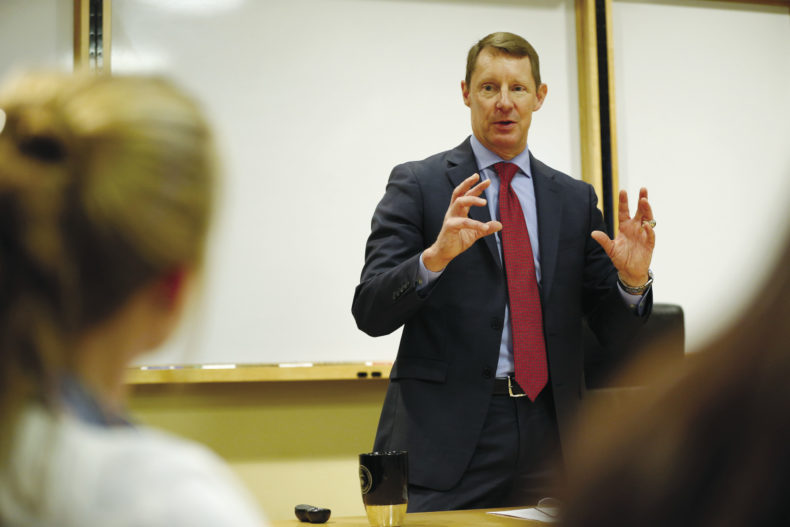 During the 12 years Newton has taught the Practice Lab, his students have drafted treaties, supported the Iraqi High Tribunal that tried dictator Saddam Hussein and members of his government, supported judicial reforms in Peru, circulated a report on the Burmese government in exile at the 63rd General Assembly of the United Nations, outlined best practices for collecting evidence of human rights violations in Ukraine for the ABA's Center for Human Rights, and supported prosecutors and defense teams at the International Criminal Court. Students also helped draft a guidebook for prosecutors investigating human trafficking published by the U.N. Office of Drugs and Crime in March and supported prosecutors investigating crimes against women committed by U.N. peacekeeping troops.
This year, Newton's class also undertook the first legal analysis of atrocities committed against the Yazidi people after the ISIS campaign in Iraq. "Students reviewed first-hand information and interviews of victims and wrote a detailed analysis for Iraqi and Kurdish officials," Newton said. The U.S. Holocaust Museum used their analysis to support its efforts on behalf of Yazidi victims.
Newton selects projects with the goal of preparing students for all areas of legal practice. Some projects connect students with organizations that also offer internships through which they can gain valuable work experience. After his 1L year, Charlie Jones '15 (BA'12) interned with the International Criminal Tribunal for the Former Yugoslavia in the Office of the Legal Adviser to Radovan Karadžić, a Bosnian Serb politician and former president of Republika Srpska convicted of war crimes. Jones admits he never imagined himself defending a convicted war criminal.
"What motivated me as part of that defense team was that I felt like every ounce of effort I gave would help to lend legitimacy and credibility to whatever ruling came down against Karadžić," he said.
Newton enjoys watching his students confront a rich variety of legal issues. "The Practice Lab connects theory to practice from day one," he said. "Students learn the psychology of treaty negotiations and then apply those insights to actual treaty proposals. They read and draft treaties and agreements, legislation, reports, guidelines and briefs. They learn how rules of evidence, constitutions and legal interpretations differ in various countries.
"And sometimes the projects they're working on show up in the headlines."
---
Samantha Sergent '19, Helen Strong Curry International Law Scholar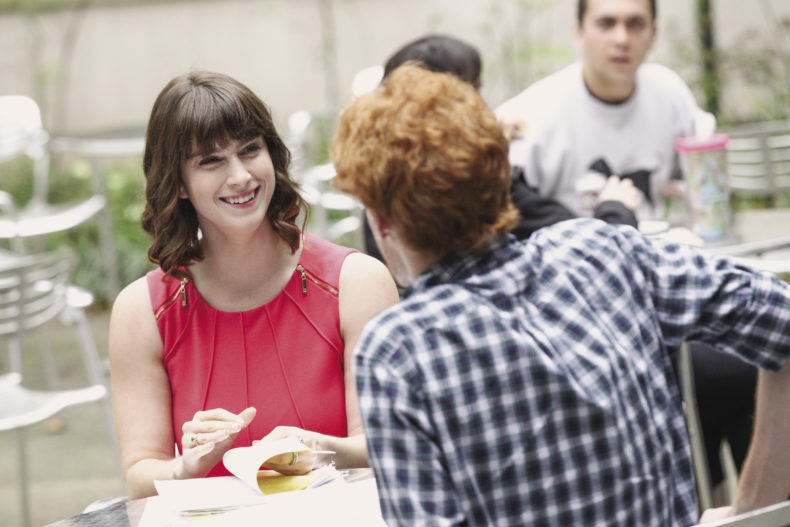 Samantha Sergent is the first recipient of the Helen Strong Curry International Law Scholarship, endowed through an estate gift from Jean Curry Allen (BA'44). One Curry Scholarship is available each year to a first-year student who plans a career in international law. Sergent spent June studying at Vanderbilt in Venice, and the remainder of the summer working in the International Humanitarian Law division of Global Rights Compliance, a partnership that fosters compliance with international human rights laws. International law practice became her career goal during a semester abroad at Dublin City University while earning her B.A. at Boston University. There she worked with the Irish Medical Counsel and Nursing Board on fitness-to-practice cases. Also, while studying at the University of New Zealand, she interned for New Zealand Parliament member Nikki Kaye. "Society is increasingly global, and that creates interesting challenges in every area of law," Sergent said. "I chose Vanderbilt specifically because of its strong International Legal Studies Program, and I'm really grateful for this scholarship."
---
Rachel Johnson '18, Raymonde I. Paul International Law Scholar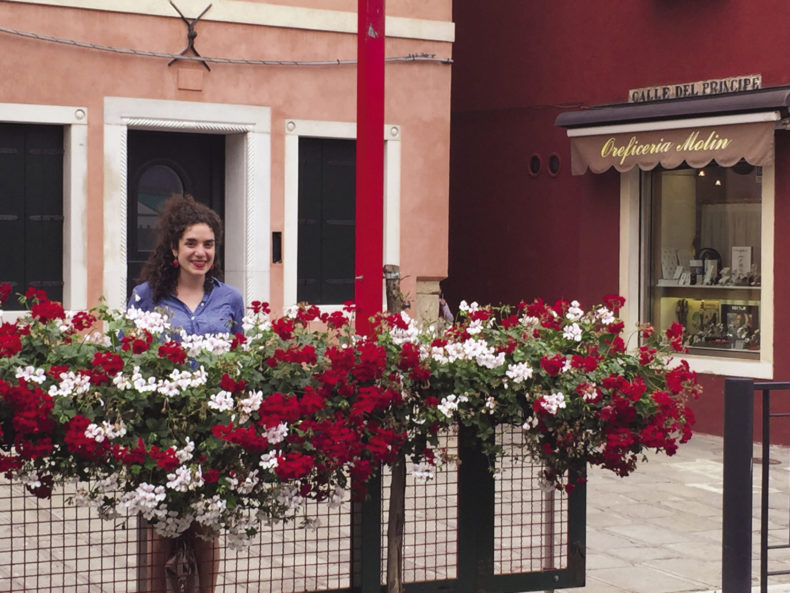 After earning her undergraduate degree in German and history at Amherst College, Rachel Johnson spent almost five years studying and working in Berlin, starting with a prestigious International Parliamentary Scholarship, which allowed her to study government policy as an intern with Germany's Green Party. When Johnson set her sights on a career in international law, she was guided to Vanderbilt by her aunt, Martha Johnson Trammell '71. Her exposure to high-level international lawmaking started her second week at Vanderbilt, when she accompanied Professor Michael Newton to the International Humanitarian Law Dialogs at the Chautauqua Institution. "That was an incredible experience to have as a new 1L," she said.
In summer 2016, Johnson worked at the International Criminal Court for the Former Yugoslavia in The Hague, where she assisted the appeals team for Bosnian Serb war criminal Radovan Karadžić with support from Vanderbilt's Nichols Humanitarian Fund. This summer, she was an associate at Freshfields Bruckhaus Deringer in New York.
---
Kosovo Calling: Becca Everhardt '10
Becca Everhardt is a Fulbright-Clinton Public Policy Fellow in Pristina, Kosovo, where she is serving as a special assistant to the director of the Public-Private Partnership Central Department of Kosovo's Ministry of Finance and researching alternative dispute resolution mechanisms.
Before accepting the fellowship, Everhardt was an associate with Freshfields Bruckhaus Deringer in New York, where she focused on international arbitration. "The Fulbright-Clinton Public Policy Fellowship provides an opportunity to combine the skills and knowledge I gained in several years of private practice with my interests in government, international law and foreign policy—and I have the rare opportunity to work within and support a foreign government ministry," she said.
---
The ILSP's World-Class Faculty
Ingrid Wuerth, Helen Strong Curry Professor of International Law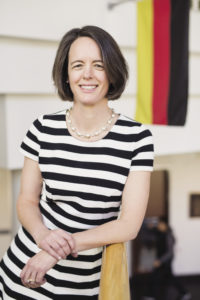 In a provocative new Texas Law Review article, foreign affairs expert Ingrid Wuerth contends that we have moved into the "post-human rights era."
"After World War II, and especially since the 1980s, human rights expanded to almost every corner of international law," explained Wuerth, who directs the International Legal Studies Program. "This 'golden age' of human rights in international law is over, at least for now." She cites the increasing number of authoritarian governments worldwide, the decline in international human rights enforcement mechanisms such as the Alien Tort Statute, and the growing power and influence of two states where human rights are not a priority—Russia and China.
Wuerth argues that making individual human rights a global priority has not changed international law for the better. "International human rights law appears to have changed international law in ways that have made it weaker and more likely to produce friction and conflict," she said. She seeks to reframe the international law debate to consider these costs and support careful evaluation of initiatives such as the work of the United Nations. "Perhaps international law should focus on a stronger, more limited core of legal norms that protect peace and security, not human rights," she said.
In addition to her scholarship, Wuerth is a reporter on the American Law Institute's fourth Restatement of the Foreign Relations Law of U.S. and serves on the U.S. State Department's Advisory Committee on Public International Law. She has received Hall-Hartman Awards four years running, both for her first-year Civil Procedure class and her upper-level Foreign Affairs class.
---
Daniel Gervais, Professor of Law and Co-director, LL.M. Program
In his new book (Re)stucturing Copyright: A Comprehensive Path to International Copyright Reform (Elgar Publishing, 2017), Daniel Gervais makes the bold case for a complete replacement of the current copyright system. "We need a system that actually works," Gervais said.
Gervais, who directs the Vanderbilt Intellectual Property Program, has the credentials and experience to design that practical system. His career has included policy work for the World Trade Organization, the World Intellectual Property Organization, the International Confederation of Societies of Authors and Composers, the International Federation of Reproduction Rights Organizations, and Copyright Clearance Center. He wrote the leading guide to the TRIPS Agreement, the treaty that governs international intellectual property rights, after sitting through the treaty negotiations, and he is editor-in-chief of the peer-reviewed Journal of World Intellectual Property. He is a member of the American Law Institute and became the first North American law professor admitted to the Academy of Europe in 2012.
International copyright law is a byzantine collection of copyright rules, rights and exceptions that evolved rapidly to deal with emerging technologies. The Berne Convention—last updated in 1971—establishes international copyright law for more than 170 nations, including the U.S. Gervais proposes to replace it with a simpler system that grants broad rights and exceptions. "The current copyright system is in a state of civil war," Gervais said. "The system I propose rewrites all the rights and exceptions in a structured way, but ultimately, we need a new version of the Berne Convention."
A broader use of licensing without affecting fair use, Gervais suggests, allows the use of more copyrights, but also helps creators get paid. "Millennials will stream a new movie illegally if Netflix or another company doesn't make it available," Gervais said. "But they'll also still go to the theater to see it. They want the social experience with their friends. So let's focus on what actually matters—commercially significant uses—and combine that with efficient licensing systems that allow people to use the material, sometimes for free and sometimes not."
---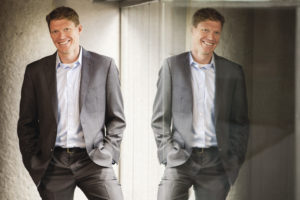 Citizens who believe that globalization costs American jobs might change their minds if international trade agreements included commitments to address economic inequality, according to Timothy Meyer. In his 2017 Vanderbilt Law Review article, "Saving Free Trade," Meyer proposes that future trade agreements include "economic development" chapters where developed countries lay out plans for domestic education and infrastructure programs that boost economic opportunities for those who might suffer negative impacts. The results would be monitored with mechanisms similar to human rights treaties.
"If politicians continue to argue in favor of greater trade liberalization without supporting efforts to distribute the gains from such provisions, then perhaps globalization's critics are correct," he said, referring to those national leaders who favor free trade but who resist pressure to work toward economic equality in an era when social safety nets are dwindling.
Meyer's writing on international lawmaking and compliance also has examined the interaction of international and local rules on energy subsidies, the relationship between international energy institutions and the creation of nonbinding "soft law" obligations. He joined Vanderbilt's law faculty in 2015 from the University of Georgia School of Law and teaches International Business Transactions, International Trade Law and Constitutional Law.
---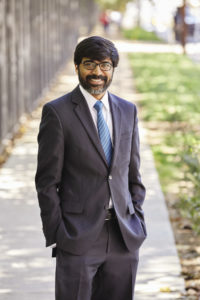 Ganesh Sitaraman's research stints in Kabul at the Counterinsurgency Training Center – Afghanistan and at the Center for a New American Security translated into the book The Counterinsurgent's Constitution: Law in the Age of Small Wars, which was awarded the 2013 Palmer Prize for Civil Liberties. "The book was about law and counterinsurgency, two fields that are rarely combined," Sitaraman said. "Lawyers can learn a great deal from counterinsurgency, just as soldiers and strategists can learn a lot from law." Sitaraman worked for his former law professor, Sen. Elizabeth Warren (D-Mass.), as policy director of her senatorial campaign and as her senior counsel in the Senate, before he began teaching Regulatory State and a Constitutional Law Seminar in 2013. His interests span constitutional, administrative and foreign relations law; he and Professor Ingrid Wuerth co-authored a 2015 Harvard Law Review article, "The Normalization of Foreign Relations Law," and his new book, The Crisis of the Middle-Class Constitution, was released this March.
---
Yesha Yadav, Professor of Law and Co-director, LL.M. Program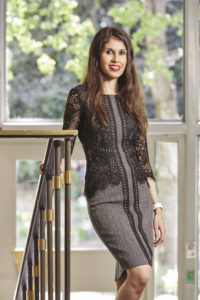 Yesha Yadav joined the World Bank's finance and infrastructure unit as a regulator in the aftermath of the 2008 financial crisis. She came to Vanderbilt in 2011 intent on studying international banking and securities regulation in a global financial market where the types of investments and means of trading are rapidly evolving. Her 2016 UCLA Law Review article, "Insider Trading and Market Structure," addresses the challenge algorithmic trading poses for the law and policy of insider trading. Securities markets increasingly rely on automated trading based on algorithms—preprogrammed electronic instructions—that receive and trade on not-fully-public information ahead of other investors. The structure of these electronic trading systems enables some traders to see market-moving data before others, creating a new form of insider trading. "These 'structural insiders' can capture the best trades and erode the profits of informed traders, resulting in harms similar to corporate insider trading and placing other investors at a persistent disadvantage," Yadav explained.
Yadav has practiced financial regulation law with Clifford Chance and served as interim research director of the Committee on Capital Markets Regulation. She received a Hall-Hartman Prize for Outstanding Teaching for Securities Regulation in 2015. She also teaches Corporate Bankruptcy and International Financial Regulation. Her next article will address the role major asset managers, such as Vanguard and Fidelity, might play in the corporate governance of large banks.
---
Michael Newton, Professor of the Practice of Law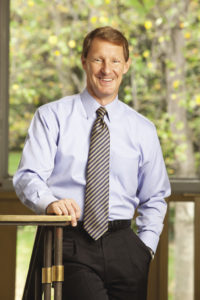 Michael Newton has written more than 80 scholarly books and articles on topics of war crime policy, proportional military response, and prosecuting maritime piracy. However, his most exciting book, co-authored with Michael P. Scharf, recounts his personal experience helping Iraqi lawyers and jurists draft the Statute of the Iraqi High Tribunal. Newton was in Baghdad in December 2003 when the tribunal was announced and dictator Saddam Hussein was captured. He and Scharf spent months helping Iraqi lawyers write the tribunal's rules, conducted a mock trial, and provided legal analysis on dozens of issues, and Newton returned to Baghdad to offer guidance during the trial and appeal. A career military lawyer before joining the legal academy, he calls the Iraqi judges he worked with "the bravest men I've ever met." He currently serves on the advisory board of the ABA International Criminal Court Project.
---