Henry Strickland '83 appointed dean of Cumberland School of Law
Dec 16, 2013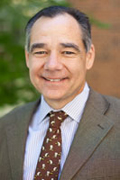 Henry C. (Corky) Strickland III '83 has been named dean of Samford University's Cumberland School of Law. His appointment will begin July 1, 2014. He succeeds John L. Carroll Jr., who is retiring after 13 years.
The announcement was made Dec. 13 and follows a national search.
Strickland currently is a professor of law at Cumberland, where he teaches courses in alternate dispute resolution, arbitration, civil procedure, constitutional law and conflict of laws. He previously served as Cumberland's associate dean for academic affairs from 2001-11. He joined the Cumberland faculty in 1988 after practicing for three years with a Charlotte, North Carolina, firm. He also served two years as a law clerk for Judge Virgil Pittman of the U.S. District Court for the Southern District of Alabama.
"Corky Strickland is uniquely suited to assume the deanship of the Cumberland School of Law during this strategic phase of its history," said Samford Provost and Executive Vice President J. Bradley Creed. "He is a proven and experienced legal educator and is highly respected by faculty and alumni. I have confidence in his leadership and am looking forward to working with him."
A graduate of Presbyterian College in Clinton, South Carolina, Strickland graduated in the top 15 percent of his law class at Vanderbilt and was an editor for the Vanderbilt Law Review. He is a member of the American Bar Association, the American Arbitration Association's panel of arbitrators and mediators and the Association for Conflict Resolution.
"[Strickland] is a well respected faculty member of the law school. He is an outstanding teacher and served as the academic dean for many years," said Brad Bishop, professor of law and co-chair of the dean search committee.
Cumberland School of Law recently celebrated its 50th anniversary as part of Samford University. It is one of 10 academic schools at Samford, the largest privately-supported university in Alabama. Founded in 1847, the law school originally was part of Cumberland University in Tennessee before relocating to Birmingham. Nationally recognized for its trial advocacy program, Cumberland recently was ranked 40th in the nation by The National Jurist and has been highly ranked by other prestigious publications and rankings.
"It is truly an honor to serve as the dean of Cumberland Law School," Strickland said. "For more than 150 years, Cumberland has prepared exceptional lawyers who are devoted to serving their clients and their communities. I am excited about working with the outstanding faculty and staff of the law school, Cumberland's devoted alumni and the bar as we meet the challenges of continuing that tradition in the 21st century."
---