Housing Evictions During COVID-19
May 24, 2021
In 2017, 
the Metro Government of Nashville and Davidson County
 found that nearly half of Nashville-area renters spent at least 30 percent of their monthly income on housing, and nearly a quarter of renters spent more than 50 percent of their income on housing.
This gap between housing costs and renters' ability to pay them has widened during the COVID-19 pandemic, both in Nashville and across the country. This has been exacerbated as hours at many lower-wage jobs have been reduced and government aid frequently has been inadequate to meet people's needs.
Within this unprecedented landscape, Wendy Barcelona '21, Joseph Kaminsky '21, Shannon Charlton '21, and Adora "Olisa" Onyiuke '21 began the inaugural semester in the Housing Law Clinic in January 2021. The clinic's mission includes providing a framework for guiding the development of law students' emerging professional identities while allowing them to serve as a vital legal resource to low-income Tennesseans facing housing insecurity. To that end, the housing clinic spent its first semester working on behalf of Nashvillians impacted by the COVID-19 housing crisis, both by providing direct legal representation to people who have lost income due to COVID-19 and by partnering with local organizations engaged in housing-related policy change.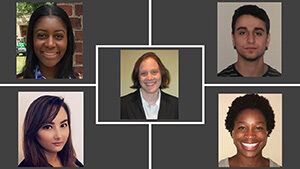 Most notably, the Housing Law Clinic partnered with an innovative new diversionary housing court aimed at preventing eviction and homelessness in Nashville. Students are working directly with Nashville public housing residents who are facing eviction. The core of student attorney work has involved negotiating settlements with the Metropolitan Development and Housing Agency to prevent eviction after the Center for Disease Control and Prevention's moratorium expired on March 31, 2021. According to a 2017 MDHA report, Nashville's public housing residents are almost exclusively African Americans. 
"The Housing Law Clinic is devoted to working with community partners to ensure that Nashville's most vulnerable members maintain housing security with attention to mitigating the disparate impact COVID-19 has had on people of color," said Housing Law Clinic Director Jennifer Prusak. 
HLC has also partnered with local organizations focused on improving housing security for low-income Nashvillians and on furthering racial justice, including Open Table Nashville, Gideon's Army, and Nashville Organized for Action and Hope.
"The COVID-19 pandemic will continue to have negative ripple effects in this country long after it is finally over," Prusak said. Yet, she hopes that "student attorneys' efforts will have a direct impact on addressing the ways in which the housing crisis brought to the forefront how systemic racism manifests for communities of color." 
---