Intellectual property law in the information age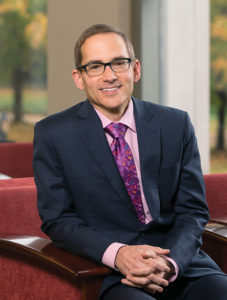 This edition of Vanderbilt Law focuses on intellectual property law from the perspectives of several exceptional faculty and alumni. Mitch Glazier '91, president of the Recording Industry Association of America, who is featured on our cover, has watched the incredible evolution of music copyright since the advent of the internet era. Our copyright experts, Milton R. Underwood Professor of Law Daniel Gervais, who heads our Intellectual Property Program, and Associate Professor Joseph Fishman share their perspectives on copyright reform. VLS alumni Amy Everhart '98, who founded her own boutique intellectual property firm, and Aurelia Schultz '09, who works for the U.S. Copyright Office, talk about their work in the area of copyright law and policy. Professor Sean Seymore, who studies patent law, and alumni Julie Samuels '05, now an authority on patent policy in the technology industry, and Anna Barry '01, whose career has focused on patents in the life sciences industry, discuss the uses, abuses and evolution of patent law.
Many of you have told me your work on a journal was a highlight of your law school experience, so I'd especially like to draw your attention to the Vanderbilt Journal of Entertainment and Technology Law, which celebrates its 20th anniversary this year. Originally founded as the Vanderbilt Journal of Entertainment Law and Practice, JETLaw changed its name and broadened its scope in 2005. It's now highly ranked among specialty law journals and affords students an opportunity to engage with current scholarly work in three fast-evolving, dynamic areas of law. Professor Gervais is JETLaw's faculty adviser. Students who work on JETLaw as well as the Law Review, advised by Professor Seymore, and the Journal of Transnational Law, advised by Ingrid Wuerth, who holds the Helen Strong Curry Chair in International Law, gain valuable experience in legal writing and editing and from their exposure to legal scholarship. I appreciate all of you whose support makes our journals possible.
For the first time, VLS sponsored two Pro Bono Spring Break teams this March. Students on the transactional team, led by Assistant Clinical Professor Lauren Rogal, worked at the Appalachian Community Federal Credit Union in Johnson City, Tennessee, where their visit was facilitated by Aaron Duffy '08 of ACFCU's legal staff. The litigation team led by Assistant Dean for Public Affairs Spring Miller headed to the ICE detention center in Lumpkin, Georgia, where students working under the supervision of attorneys with the Southern Immigrant Freedom Initiative successfully argued two bond motions on behalf of immigrant detainees. Both trips were funded by the George Barrett Social Justice Program, Law Students for Social Justice and the VLS Office of Public Interest.
This spring Professor Ganesh Sitaraman, a rising constitutional law scholar, was named an Andrew Carnegie Fellow and awarded $200,000 to support his research. In recent years, law faculty have also received fellowships or grants from the Guggenheim, MacArthur, Mellon and Annie E. Casey foundations, and four, including Ganesh, have been named Chancellor Faculty Fellows by Vanderbilt University and received additional research funding. Programs like this help us attract and retain strong faculty, and I appreciate the support of Chancellor Nicholas S. Zeppos and Provost Susan R. Wente in funding and rewarding innovative faculty research.
The parents of Rick Ferrini '11 recently endowed significant scholarships in their son's memory at both the law and medical schools. The VLS community was deeply saddened by Rick's untimely death, and we sincerely appreciate the Ferrini family's generosity in memorializing their son.
Finally, it seems fitting that we honored Justice Connie Clark '79 (BA'71) with our 2018 Distinguished Service Award in the same year in which she received the Tennessee Bar Association's Frank Drowota Award, which recognizes service to the judiciary. I'm sorry that Frank '65 (BA'60), didn't live to see Connie receive the award named in his honor; we mourned his death in April. We also honored Bob Reder '78, who joined our faculty in 2013 as a professor of the practice of law after retiring from Milbank and is now revered by his students. We are lucky to have such a wonderful community of alumni who serve their communities and support our school.
Sincere regards,
Chris Guthrie
Dean and John Wade–Kent Syverud Professor of Law
---