Jim Bradford '73, Dean Emeritus of the Owen Graduate School of Management, dead at 76
Aug 1, 2023
James Warren Bradford '73, Dean Emeritus of the Owen Graduate School of Management, died on July 27. He was 76.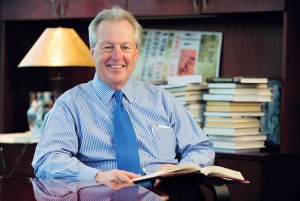 Dean Bradford earned his undergraduate degree from the University of Florida before earning his law degree at Vanderbilt. He served in the U.S. Air National Guard from 1969 to 1975 while stationed at Berry Field. He completed the Advanced Management Program at Harvard University in 1997, while serving as CEO of AFG Industries.
After earning his law degree, Bradford moved to Kingsport, Tennessee, and practiced law at Hunter Smith & Davis from 1973 to 1984. He joined AFG industries Inc. as general counsel in 1984 and was named the company's CEO in 1992. He left AFG in 1999 to serve as CEO of United Glass Corp.
Bradford joined the faculty of the Owen Graduate School of Management at Vanderbilt University in 2002 and was named Dean in 2005. He retired in 2013.
Following his retirement from Owen, Bradford taught business strategy at ESADE in Spain for three months. He also served as Chair of the Graduate Admissions Council for one term. Bradford served on the board of Satler College in Boston, Massachusetts, in 2018.
Bradford's community service included serving on the Kingsport Board of Education and as the board's chair.
He served on numerous corporate boards, including Clarcor Inc. from 2006-17, Granite Construction from 2007-20, Genesco Inc., where he served as Lead Director, from 2005-17, and Cracker Barrel Inc. from 2011-19. He was recognized in 2015 for his work for Cracker Barrel as Non-Executive Chairman of the Year 2015 for all NYSE and NASDAQ listed companies by the NYSE Leadership and Governance analysis section.
Bradford was an enthusiastic and talented golfer and dedicated cyclist.
Dean Bradford is survived by his wife of 54 years, Susan Garrison Bradford; their four children, and 25 grandchildren.
Memorial contributions can be sent to the James Bradford Scholarship at the Owen Graduate School of Management at Vanderbilt.
---