Jim Rossi appointed to the Judge D.L. Lansden Chair in Law
Mar 12, 2019
Jim Rossi has been appointed to the Judge D. L. Lansden Chair in Law. Rossi is the first recipient of the Lansden Chair, which was created in 2018 through a trust established by Dick L. Lansden Jr. (LL.B.'34, BA'33) and Martha S. Lansden (BA'33) to support a faculty member at Vanderbilt Law School. The chair is named in honor of Dick Lansden's father, Judge D. L. Lansden, a former Tennessee Supreme Court chief justice.
Judge Lansden was a teacher and county superintendent in White County, Tennessee, before studying law in the office of Snodgrass and Smith. Admitted to the bar in 1893, he joined the firm Snodgrass Fancher and Lansden. He was later elected to the Tennessee Supreme Court and served as chief justice for five years. His son, Dick Lansden, was a founding partner of the firm that became Waller Lansden Dortch and Davis, now one of the oldest firms in Tennessee. Lansden met his wife, Martha Stanfill Lansden, at Vanderbilt, where she was a Phi Beta Kappa graduate.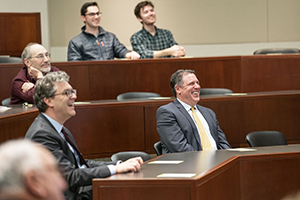 Rossi's appointment to the newly endowed chair was announced by Dean Chris Guthrie, and he was among 10 newly appointed chair holders honored by Vanderbilt University Nov. 19. In addition to serving on the faculty of the law school's Energy, Environment and Land Use and Law and Government programs, Rossi is currently serving as associate dean for research. He was the 2013-14 FedEx Research Professor of Law.
Rossi is nationally recognized for his research on administrative and energy law topics. His recent work focuses on the role of public utility doctrines and principles in modern energy markets, as well as federalism and other shared jurisdictional issues affecting agency regulation. He has served as a consultant to the Administrative Conference of the United States' Committee on Collaborative Governance project on "Improving Coordination of Related Agency Responsibilities," which resulted in a set of recommendations adopted by the conference on how agencies should coordinate.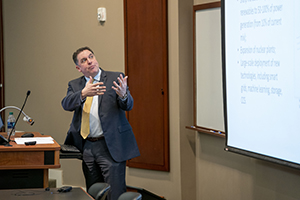 Rossi's Feb. 26 chair lecture, "Grid Decarbonization and the Public Utility," discussed his recent research, which has focused on regulatory strategies to expand the U.S. energy grid to accommodate sources of renewable energy and reduce the grid's carbon emissions. In his talk, Rossi described the power grid as "a massive machine that operates on a synchronous basis. The power grid has been described as the most complex system ever built," he said. "The grid is also responsible for about 40 percent of carbon emissions in the U.S."
In a 2017 Minnesota Law Review article, "Carbon Taxation by Regulation," Rossi addresses how utility regulation already incorporates many of the goals and features of carbon taxation.  "As presently structured, interstate energy markets fail to recognize many important goods, including carbon reduction," he said. "Public utility regulation provides a principled forum for reducing carbon emissions from the energy grid while balancing economic efficiency and fairness considerations, including consumer protection." Rossi suggests practical guidelines designed to promote better transparency and a more coordinated approach to using state utility regulation to pursue carbon reduction policies against the backdrop of interstate energy markets.
Rossi's most recent article, "Energy Exactions," co-authored with Associate Dean for Academic Affairs Christopher Serkin, addresses the role cities and local land use regulators can play in advancing clean energy initiatives. Their article is forthcoming in the Cornell Law Review.  Rossi and Serkin propose using energy exactions, which are similar to fees local regulators use to finance roads, sewers and schools, as a tool that will allow cities to take responsibility for the energy impacts of their land use decisions. Use of energy exactions allows cities to identify their own power supply options for addressing growth, without relying entirely on a utility to supply energy or by undertaking an expensive acquisition of the municipal power grid and running the local utility themselves.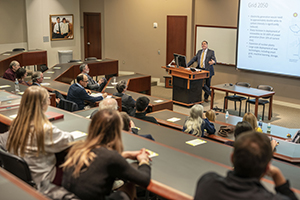 Rossi is a co-author of Energy, Economics and the Environment (4th edition), and the author of Regulatory Bargaining and Public Law (Cambridge University Press). He edited, with James Gardner, a 2010 collection of essays, Dual Enforcement of Constitutional Norms: The New Frontier of State Constitutionalism (Oxford University Press).
"Jim Rossi is an expert in federal energy regulation whose research informs policy decisions in the energy sector," said Dean Guthrie said. "His work in the areas of renewable energy, public utilities and federalism is particularly important at a time when we need a well-coordinated regulatory approach to energy sourcing and distribution."
Rossi holds an LL.M. from Yale Law School, a J.D. from the University of Iowa and a B.S. from Arizona State University. Before joining Vanderbilt's law faculty, he was the Harry M. Walborsky Professor and associate dean for research at Florida State University College of Law. Rossi has also taught as a visiting professor at Harvard Law School, the University of Texas School of Law and the University of North Carolina School of Law. Before entering the legal academy, he practiced energy law in Washington, D.C.
At Vanderbilt, he teaches Torts, Energy Law and two seminars, Public Governance and Renewable Power.
---