Jin Yoshikawa '20
Jin Yoshikawa chose Vanderbilt Law School both for the collegial culture and the intellectual climate. "Vanderbilt produces the kind of lawyer I wanted to be—sharp but not pretentious, articulate but plain-spoken, persuasive but polite," he said. "I also wanted a solid foundation in the law."
During his time at Vanderbilt, Yoshikawa has appreciated the rigorous academics. "Vanderbilt has exceeded my expectations," he said. "I have had classes and developed relationships with professors renowned in their field. Not only are they committed to research and legal innovation, but they are also committed to education and to brilliant ideas, regardless of whether they challenge conventional wisdom."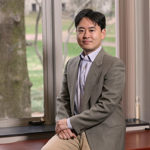 As a 3L, Yoshikawa is editor-in-chief of the Vanderbilt Journal of Intellectual and Technology Law. "I chose to join the JETLaw staff because the way we deal with new technologies is one of the most pressing issues of our times," he said. "The greatest takeaway and application to future law practice from serving as editor-in-chief is that I learned to be humbler about my own abilities, to appreciate, trust, and rely more on others, and to be a better team player."
Yoshikawa studied artificial intelligence as an undergraduate at Columbia University, and he chose an AI topic for his JETLaw Note, "Sharing the Costs of Artificial Intelligence: Universal No-Fault Social Insurance for Personal Injuries," published in 2019. Written after an Arizona woman was hit and killed by a self-driving car in 2018, his paper examines legal remedies for injuries that artificial intelligence will cause in the future. "I propose a public insurance scheme in which everyone shares responsibility for the costs of AI," he said.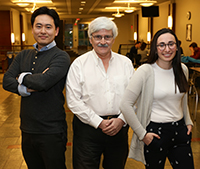 As a 2L, Yoshikawa volunteered with the Medical Legal Partnership, a program supported by the law school's Public Interest office. Guided and mentored by retired attorney Kent Halkett '81, law students screen and counsel indigent patients at a free medical clinic run by students of Vanderbilt Medical School. "We realized that many health issues are directly related to a patient's housing or employment situation," Yoshikawa said. Law students use a screening tool to identify needs and connect patients with free legal services and self-advocacy tools.
Until recently, Yoshikawa was a citizen of both the United States and Japan; his family moved to the United States when he was 2. "My wife and I both stepped out of our comfort zone when we moved to Nashville," he said. The couple liked the city's cultural offerings and creative vibe so much that they plan to settle here permanently with their young son. Yoshikawa will join Butler Snow as an associate in their pharmaceutical litigation group after he graduates in May.
---