Joanna Morrison, Class of 2013, awarded DRI Law Student Diversity Scholarship for 2012-13
Aug 23, 2012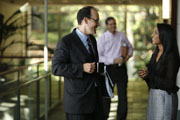 Joanna Morrison, Class of 2013, has been awarded a DRI Law Student Diversity Scholarship by the Defense Research Institute (DRI) for the 2012-13 academic year. Morrison's scholarship award was announced at DRI's seventh annual Diversity for Success Seminar, held in Chicago June 7 and 8, 2012.
DRI awards two $10,000 scholarships per year to rising full-time second- and third-year law students who are African American, Hispanic, Asian or Native American based on demonstrated academic excellence, service to the legal profession, community service and service to the cause of diversity.
"I am deeply honored and extremely grateful to have been awarded this scholarship by DRI," Morrison said. The scholarship award was presented at DRI's annual Diversity of Success Seminar in Chicago on June 8.
A native of West Bloomfield, Michigan, Morrison earned her undergraduate degree at the University of Michigan, Ann Arbor. At Vanderbilt, she is a Dean's Scholar and is serving as vice president of the Vanderbilt Bar Association for 2012-13. She is a member of the Women Law Students Association and the Black Law Students Association.
Morrison was a summer associate with Levin & Perconti in Chicago in 2012. During summer 2011, she interned in the chambers of Judge Stephen J. Murphy III of the U.S. District Court for the Eastern District of Michigan and was a summer associate with Dykema Gossett in Detroit. She interned with the American Civil Liberties Union's Nashville office during spring 2012.
DRI is a leading international organization for all lawyers involved in the defense of civil litigation, which provides educational and other professional resources.
---