John Phillips '78: Translating the Lessons of Big Law to the (Horse) Farm
John Phillips '78 took the family's "country gentleman" thoroughbred operation from its genteel origins into a global business
By Mark Obbie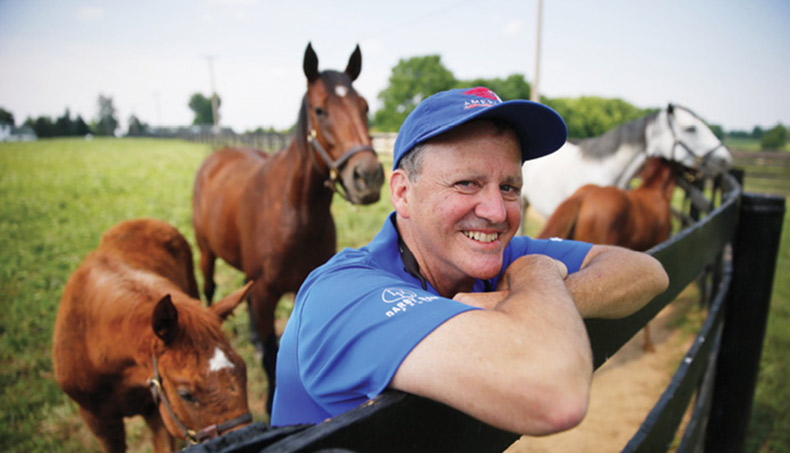 Considering the main reason he fell out of love with the practice of law, John Phillips' second career in business poses something of a contradiction, at first glance.
After graduating from Vanderbilt Law in 1978, Phillips made partner at a respected Columbus, Ohio, firm, Bricker & Eckler, and professes his love and respect for its lawyers then and now. But he also admits he came to view with distaste and fatigue the "mad chase for billable hours" that accelerated in his era, the late 1970s through the 1980s. So he was ready for a change when a legendary thoroughbred breeding and racing operation in Ohio and Kentucky, Darby Dan Farm, needed new leadership.
The mission: to guide a genteel, country gentleman's pastime into a brave new world of global competition, high financial stakes, and huge risks of business failure. In other words, Phillips faced the challenge of doing the same thing Big Law had to do, but on horseback.
In fact, there was no one better suited to the task than John Phillips. He was the grandson and nephew of commercial real estate magnates John and Daniel Galbreath, who had together led Darby Dan for decades. The horse business was, in a real sense, in his blood. And his heritage as a third-generation horseman was very much at risk.
The influx of big money and competition from Europe, the Arab world and Japan sent prices for stud services to astronomical levels starting in the 1980s. Farms like Darby Dan couldn't last by sticking to tradition. "The issue really was survival," Phillips says. "You couldn't do it as a hobby. The numbers were too big. The potential for loss was too great."
So Phillips took a leave of absence from his law partnership to redesign Darby Dan's business model in 1986, a year after the Galbreaths sold their stake in the Pittsburgh Pirates, the major league baseball team they had owned for more than 40 years. When John Galbreath died in 1988, Phillips' leave turned into a resignation. With the death of his uncle seven years later, full control of the business passed to Phillips, who moved himself and Darby Dan Farm's headquarters to ground zero in the U.S. horse world, Lexington, Kentucky.
Phillips fits the image of the old-style horseman. Author Jim Squires (BA'66) described him as "handsome, smart, and as impeccably bred as Darby Dan's horses" and an able conservator of "the Galbreath tradition as an industry pillar." He holds a prestigious post on the Kentucky Racing Commission and numerous other industry and civic groups' boards.
Phillips has maintained Darby Dan's proud record in racing. The storied farm bred two Kentucky Derby winners in the 1960s, Chateaugay and Proud Clarion. Under Phillips, its champions have included several Grade I performers, including Soaring Softly, who was Eclipse Champion and a Breeders' Cup winner, and Winter Memories, a Grade I winner.
Behind the scenes, however, Phillips describes a long, hard slog to update the business and its priorities, placing breeding and sales ahead of racing. The thousand-acre farm now sees 250 sales in a year, with nine stallions standing.
In his days at Bricker, Phillips had found his family background useful in his legal work on Ohio's pari-mutuel laws and regulations. He knew how to "walk onto the backside of a racetrack and feel right at home, and speak that language," he says. As Darby Dan's manager and owner, the flip side is true. His legal training comes in handy in the daily flow of regulations and agreements that govern the business.
"This year about 640 mares will come onto this farm to breed," Phillips pointed out. "Each one has a contract for the service of our stallions." What's more, his legal education serves as a problem-detecting radar. "It's kept me out of a lot of mistakes that other people have made," he said. "Without my education at Vanderbilt, there's no way I could have been successful. It was the best intellectual thing that ever happened to me. And I use that analytical process, that ability to think, that law school gave me, every day. Every day."
Phillips calls Darby Dan Farm a "living antique." In the end, its strength is animals that are nothing short of majestic. As a practicing lawyer, he believes he was "good but not great." In his second career, Phillips said, the Darby Dan horses let him "touch greatness."
---