Judge Aleta Trauger: Distinguished Service Award Winner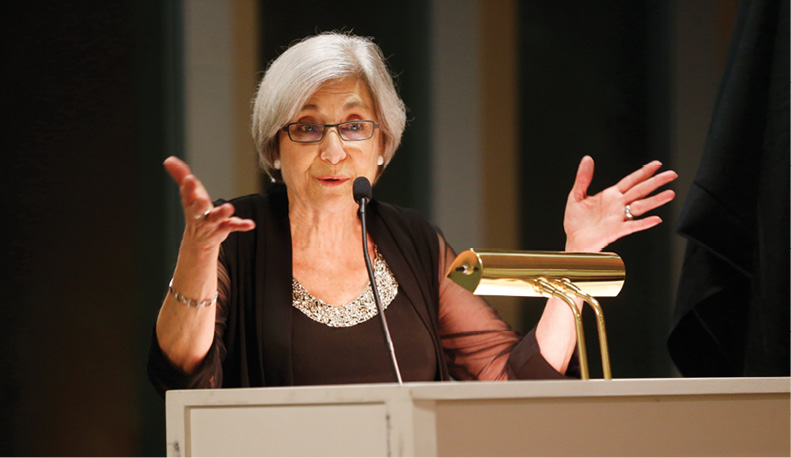 Long before Judge Aleta Trauger '76 (MAT'72) became the first female U.S. district judge for the Middle District of Tennessee in 1998, she began her professional life as a teacher. Within three years, she realized teaching was not her calling. A friend suggested law school.
Trauger entered Vanderbilt Law in 1973, just as the number of women in law schools was beginning to increase. There were 32 women in her first-year class, compared to only three in the Class of 1971 five years earlier. She quickly proved she was prepared to be a pioneering woman lawyer by helping to engineer the now legendary "potty parity" revolt, which involved the hasty conversion of one of the law school's men's restrooms for use by female students, who previously had been forced to share the single women's facility in the building with female staff.
After her 1L year, Trauger became a law clerk at Barrett Brandt & Barrett, where she was mentored by Vanderbilt alumni George Barrett '57, Lionel Barrett '66 (BA'63), Robert Brandt '66 and the late Charlie Ray '73. She clerked for the firm 20 hours a week during the school year and full time both summers, and joined the firm immediately after earning her J.D.
But in late 1977, U.S. Attorney Hal Hardin '68 made Trauger an offer she couldn't refuse: a position as a federal prosecutor. "Working for the government was beyond my wildest dreams," recalled Trauger, the daughter of Greek and Italian immigrants. "I was so honored to be asked to serve."
During her five years in the U.S. Attorney's office, including one year spent in Chicago, she achieved national prominence when she and colleague Bob Lynch Jr. successfully prosecuted former Tennessee Gov. Ray Blanton for extortion, conspiracy and mail fraud related to the sale of state liquor licenses. Women in trial practice were rare in those years, and Trauger later credited her prosecution of Blanton as helping her gain "a reputation for toughness that stood me in good stead as I entered private practice."
After another stint in private practice, Trauger accepted an offer from Mayor Phil Bredesen to serve as his first chief of staff. She joined Bredesen's administration in 1991, and was appointed to the federal bench as a U.S. bankruptcy judge in 1993. She was then appointed to the seat on the U.S. District Court for Middle Tennessee by President Bill Clinton in 1998.
One of her most difficult moments on the bench came in 2000 when she rendered her first death penalty decision in a case filed on behalf of convicted murderer Robert Glen Coe. While most cases that come before her are not life-or-death, "there are no unimportant cases," she emphasized.
Her former boss Hardin praised Trauger's "impeccable character" and commitment to following the law. That path led her to a long and productive career in public service, for which she was honored with the law school's 2016 Distinguished Service Award in April. "Judge Trauger's wisdom, integrity and commitment to public service make her an outstanding role model for our students," Dean Chris Guthrie said.
---