Judge Jeffrey Bivins '86 appointed to Tennessee Supreme Court
Apr 3, 2014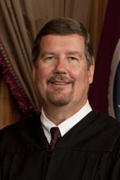 Judge Jeffrey S. Bivins '86, a member of the Tennessee Court of Criminal Appeals, has been appointed to the Tennessee Supreme Court by Governor Bill Haslam.
Judge Bivins will fill the seat vacated by Justice William C. Koch Jr. '72, who is retiring July 15 to become Dean of the Nashville School of Law.
"I had the opportunity to appoint Judge Bivins to the Court of Criminal Appeals, and he has served the state extremely well in that role," Governor Haslam said. "Tennesseans will benefit from his vast experience as he moves to our state's highest court."
Judge Bivins was appointed to the Tennessee Court of Criminal Appeals on August 24, 2011.  He currently serves as a member of the Board of Judicial Conduct and is a member of the Tennessee Judicial Conference, serving on its executive committee as the moving vice president. He is co-chair of the Retirement and Compensation Committee of the Conference and has served as chairman of the ad-hoc Committee on Court of the Judiciary Legislation. Judge Bivins also serves on the Criminal Pattern Jury Instructions Committee of the Conference and was formerly a member of the Judicial Performance Evaluation Commission.
Before his appointment to the state Court of Criminal Appeals, Judge Bivins was a circuit court judge for Williamson, Hickman, Lewis and Perry counties from 1999 to 2000 and from 2005 to 2011.
He began his career at Boult Cummings Conners & Berry in Nashville, where he practiced from 1986 to 1995 and from 2001 to 2005. From 1996 to 1999, he served as an assistant commissioner for human resources and general counsel for the Tennessee Department of Personnel, where he provided legal advice to the Tennessee Civil Service Commission, was responsible for the department's Employee Development and Equality Opportunity, Employee Relations and Technical Services divisions, and served on the State Insurance Committee and the Board of Claims. From 1996 to 1997, he served as an assistant to the commissioner and as the state coordinator for Tennessee state government for the Americans with Disabilities Act.
Judge Bivins was executive vice president and general counsel at Parker Bath Corporation from 1995 to 1996.
A native of Kingsport, Tennessee, Judge Bivins earned his undergraduate degree at East Tennessee State University in 1982 before earning his J.D. at Vanderbilt in 1986.
---