Lee Gelernt, deputy director of the ACLU Immigrants' Rights Project, delivers Vanderbilt's 2018 George Barrett Social Justice Lecture
Oct 15, 2018
"Family separation is the worst thing I have ever seen in my 25 years of doing this work," ACLU attorney Lee Gelernt told more than 100 people who attended his 2018-2019 George Barrett Social Justice Lecture on Oct. 5.
Gelernt is the lead attorney in the Ms. L litigation, a national class action case brought by the American Civil Liberties Union in San Diego, California, on behalf of thousands of parents whose children were forcibly removed from them when they arrived at the United States border seeking asylum. The U.S. District Court for the Southern District of California issued a nationwide injunction in June to stop the practice, which Gelernt described as "an enormous victory." Holding that the practice of separating children from their parents is unconstitutional, the court ordered the Trump Administration to reunite the separated families.
Gelernt, who serves as deputy director of the ACLU Immigrants' Rights Project, noted that approximately 3,000 families had been separated by federal agents before the injunction was issued.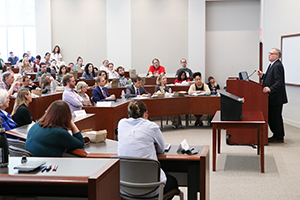 One of the first clients Gelernt represented was a native of the Democratic Republic of Congo whose daughter was removed from her custody at the border and taken to Chicago. "They didn't tell this mother why they were taking her daughter or where her daughter was going," he said. "She was from a little village in the Congo–she had no idea where Chicago was. Over the next four months, she only got to speak to her daughter roughly every 10 to 14 days. She didn't have a lawyer, so the ACLU filed a lawsuit on her behalf."
That lawsuit expanded to a national class action even before Attorney General Jeff Sessions announced a "zero tolerance" policy of separating children and parents at the border. By the time the preliminary injunction was issued, approximately 3,000 families had been separated. "The order required them to reunite the families that had been separated," Gelernt said. "The judge gave the government two weeks to reunite children under five–but at this point, there are still children under five who have not been reunited with their parents. The government missed another deadline to reunite children between 5 and 17 with their families. We are still fighting, but we are thrilled that about 2,400 families that have been reunited."
Gelernt discussed the "gratuitous cruelty" that characterized the separations as well as concerns about the long-term impact of the separations on the children's mental and physical health. "When you're a child, the reason you don't feel constantly vulnerable and scared is that you think your parents are all powerful," he said. "When children were taken away, they realized, 'My parent can't protect me—he or she is not all powerful.' That sense of vulnerability may last for a lifetime."
Gelernt also directs the Immigrants' Rights Project's Access to the Courts Program. In 2017, he successfully argued the first case challenging President Trump's travel ban on individuals from certain Muslim-majority nations. That case resulted in a federal court in Brooklyn issuing a nationwide Saturday night injunction against the ban one day after the President enacted it and eight days after his inauguration.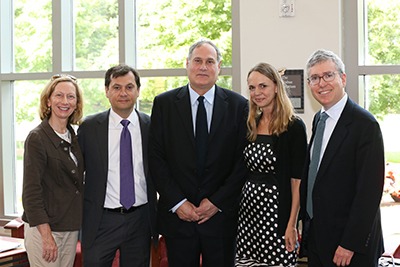 Darren Robbins '93, founding partner of Robbins Geller Rudman and Dowd in San Diego, who endowed the Barrett Lecture and named and expanded Vanderbilt's Social Justice Program in honor of pioneering civil rights lawyer George Barrett '57, attended the lecture along with Barrett's daughter, Mary Barrett Brewer '86. "Citizen George," as Barrett was widely known, was involved in high-profile civil rights litigation through his legal career, representing student protesters in the Nashville sit-in movement, labor unions working to protect workers' rights, and shareholders and consumers wronged by corporate malfeasance. Barrett was best known for leading Geier v. University of Tennessee, a decades-long and ultimately successful legal battle to desegregate Tennessee's public institutions of higher learning.
---