Leonard Lance '77 and Luke Messer '94 re-elected to Congress
Nov 5, 2014
Both Lance and Messer are Republicans. Lance, who represents New Jersey's 7th District, was re-elected for a fourth term. Lance served in New Jersey's state assembly from 1991 to 2002, when he was elected to the state assembly, where he served until his election to Congress in November 2008. His district includes parts of Essex, Hunterdon, Morris, Somerset, Union and Warren counties. He handily defeated Democratic challenger Janice Kovach. Lance is married to Heidi Rohrbach, Class of 1977.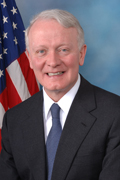 Lance serves on the House Energy and Commerce Committee, to which he was appointed in 2011. He served on the House Financial Services Committee from 2009-11.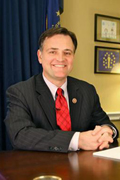 Messer, who represents Indiana's 6th District, was elected to a second term. Elected president of the House's "freshman class" by his peers, Messer serves on the Committees on Budget, Foreign Affairs, and Education and the Workforce. Before his election to Congress in November 2011, Messer practiced law and served two terms as a State Representative, serving on the Indiana House Ways and Means Committee. Messer received 66 percent of the vote in a race against Democrat Susan Heitzman.
Messer represents a 19-county region of east-central and southeastern Indiana. He and his wife, Jennifer, live in Shelbyville, Indiana. They have three children.
---