Local and national experts to discuss Nashville's affordable housing crisis at Vanderbilt Law School March 28 and 29
Mar 19, 2019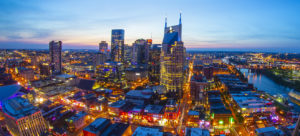 Vanderbilt Law School is hosting two events focusing on the impact of Nashville's rapid growth on the availability of affordable housing on March 28 and March 29. Both are free and open to the public.
Sponsored by the law school's Hyatt Student Activities Board, these events include:
Gentrification and Urban Housing: Exploring Nashville's Growth, a reception on Thursday, March 28 from 5 to 7 p.m., where representatives from local community organizations will discuss the role of gentrification and affordable housing in Nashville's future. The event will include representatives of Nashville Organized for Action and Hope, MiKen Development; the Barnes Housing Trust Fund, an initiative of Nashville's Metropolitan government that award grants to nonprofit housing developers to build affording housing; the Nashville Area Chamber of Commerce; Walk Bike Nashville; and the Office of State Representative John Ray Clemmons, among others.
Gentrification and Urban Housing: The Legal Dimension, a panel discussion moderated by land use expert Christopher Serkin, Associate Dean for Academic Affairs, on Friday, March 29, from noon to 1 p.m. This lunch discussion will feature Audrey McFarlane, the Dean Julius Isaacson Professor of Law at the University of Baltimore, whose work focuses on economic and urban development and land use; Phil Manz, who chairs the Affordable Housing Task Force of Nashville Organized for Action and Hope (NOAH); and Michael Kenner, founder of MiKen Development, which fosters development of affordable housing in Nashville. This panel will be live streamed and can be viewed here.
Both events will be held at the law school at 131 21st Ave. South.
They are made possible by the Hyatt Student Activities Fund, which was established by Wayne S. Hyatt '68 (BA'65) and his late wife, Amanda G. Hyatt (BA'67, MA'74).
---