Matthew Downer '14 wins 2014 Gellhorn-Sargentich writing competition sponsored by ABA
Oct 10, 2014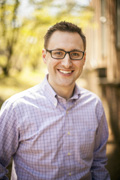 Matthew Downer '14 won the 2014 Gellhorn-Sargentich Law Student Essay Competition, which is sponsored by the American Bar Association's Section of Administrative Law and Regulatory Practice, and carries a $5,000 prize. The annual award recognizes a single student for a paper on an administrative law topic. Downer's winning entry, "Tentative Interpretations: The Abracadabra of Administrative Rulemaking and the End of Alaska Hunters," was published in the April 2014 edition of the Vanderbilt Law Review, where Downer served as the Executive Editor.
In his Note, Downer discusses the doctrine—associated with the D.C. Circuit's decision in Alaska Professional Hunters v. Federal Aviation Administration—governing when administrative agencies have to undergo a new rulemaking process to change an interpretation of a regulation. In the Alaska Hunters case, the FAA had assured a group of Alaskan guide pilots and a hunters association that guide pilots did not need to comply with FAA regulations regarding commercial air operations. Years later, the FAA changed course, now interpreting the regulations as applying to the guide pilots as well. The pilots and hunters association challenged the FAA's reversal. The D.C. Circuit struck down the FAA's reversal notice because the FAA had changed its interpretation of regulations regarding commercial air operations without giving the regulated entities advance notice and an opportunity to comment.
Before the Alaska Hunters case, federal agencies were not required to give regulated entities notice when they changed their interpretation of regulations. The Alaska Hunters decision gave rise to a doctrine of requiring agencies to provide advance notice of changes in the guidance they had previously issued and allow regulated entities to comment. Defenders of the Alaska Hunters doctrine assert that it offers greater protection to entities that rely on guidance from regulators. In his Note, Downer argues that the doctrine actually does the opposite by "incentivizing agencies to downplay the definitiveness of their interpretations," claiming the changes are "tentative," to avoid the burdensome notice-and-comment process. "Because of this perverse incentive, regulated entities do not know how much they should rely on agency guidance," Downer writes.
Downer argues that the Supreme Court's decision in FCC v. Fox Televisions Stations Inc. strikes a better balance between giving agencies the flexibility to change their interpretations and ensuring that regulated entities can rely on the guidance they receive from agencies. If the Supreme Court extended the Fox framework to agency interpretations, lower courts would focus on the extent to which regulated entities actually relied on the agency interpretation rather than whether agencies considered their guidance tentative or definitive. "Then, agencies would gain nothing by claiming that an interpretation was 'tentative,' and they would lose flexibility when they induce excessive reliance," Downer said.
Agencies and regulated entities would both be better off under the Fox approach, Downer argues. "Both sides of the debate—those who favor agency flexibility and those who favor reliance interests—should be able to agree: the time has come to abandon Alaska Hunters," he writes.
The Alaska Hunters doctrine is under consideration in the Supreme Court this term in Perez v. Mortgage Bankers Association, set for argument on December 1, 2014.
Downer will present his paper and receive his award at the section's annual Administrative Law Conference in Washington, D.C., October 16. He is currently serving as a law clerk for Judge Amul R. Thapar of the U.S. District Court for the Eastern District of Kentucky in Covington during 2014–15 and will serve as a clerk in the chambers of Judge Raymond M. Kethledge of the U.S. Court of Appeals for the Sixth Circuit in Ann Arbor, Michigan, for the 2015–16 term.
"I am so grateful for the expert teaching, generous guidance, and constant encouragement of Deans Kevin Stack and Lisa Bressman," Downer said. "My Note would not have been possible without them."
"Matthew's note is an outstanding contribution on an important topic for agencies and regulated parties," Stack said. "I'm very glad that it is receiving this recognition by the ABA."
Downer is the second consecutive Vanderbilt Law graduate to win the Gellhorn-Sargentich competition. Taylor Owings '13 received the 2013 Gellhorn-Sargentich Award for her Vanderbilt Law Review Note, "Identifying a Maverick: When Antitrust Law Should Protect a Low-Cost Competitor," published in the January 2013 edition.
Vanderbilt's curriculum includes a required first-year course called Regulatory State, which provides an introduction to statutes, regulations, and administrative law, as well as a number of upper-level offerings on regulated industries and administrative law.
---