Matthew R. Burnstein '96 (BA'93) named chairman of Waller Lansden Dortch
Jun 27, 2014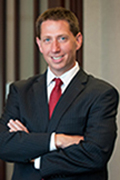 Matthew R. Burnstein, J.D. Class of 1996 (BA'93), has been elected chairman of Waller Lansden Dortch & Davis, the firm announced June 24, 2014
Effective August 1, 2014, Burnstein will succeed John Tishler, who earned his B.A. at Vanderbilt University in 1980. Tishler will assume the role of chairman emeritus and resume his bankruptcy and restructuring practice at Waller. Burnstein is based at Waller's Nashville office.
"I am honored to have my partners' confidence and trust, and I look forward to working with them to serve the firm's clients," Burnstein said. "Waller has grown significantly under John's leadership, and we will be fortunate to have his continuing assistance as we implement our new five-year strategic plan."
At Waller, Burnstein represents large healthcare companies growing through acquisitions or emerging companies seeking venture capital funding. After graduating magna cum laude and Phi Beta Kappa from Vanderbilt University, he was inducted into the Order of the Coif at Vanderbilt Law School. He was a clerk to Chief Judge Charles R. Simpson III of the U.S. District Court for the Western District of Kentucky in 1996-97 before joining Waller.
---